The Originators of Quick & Easy Cooking!
Comfort Food for the Soul: 40 of Our Best Stews and Easy Soup Recipes
Bonus: Get our newsletter & special offers for free. We will not share or sell your email address. View our Privacy Policy
Party Pleasers: 58 Easy Potluck Recipes
For crowd-pleasing party favorites, the Editors of Mr. Food have compiled our best potluck recipes for any event! Whether you're searching for church potluck recipes or make-ahead dishes for that neighborhood get-together, we've got a huge variety of great potluck recipes to help you plan your menu. Don't miss Party Pleasers: 58 Easy Potluck Recipes, our handy guide to potluck appetizers, dips, salads, main dishes, sides and desserts!

Next time you're invited to a backyard barbecue, summer picnic, or dinner party, choose from a delicious array of easy potluck recipes - from colorful layered salads and tasty dips to creamy casseroles and savory vegetable sides. And of course, we can't forget dessert! Whether your crowd craves brownies, cupcakes, ice cream, cookies, cake or pie, we have a scrumptious selection of dessert potluck recipes.

If you're planning a potluck, be sure to check out our Dynamite Dip Tips, plus How to Plan a Perfect Buffet! These helpful articles are ideal for party-planning and serving large groups of people. Make your potluck party memorably delicious with these easy potluck recipe ideas, designed to feed a crowd. We promise there won't be many - if any! - leftovers.

Table of Contents

Potluck Appetizers & Dips
Potluck Salads
Potluck Main Dishes
Potluck Sides
Potluck Desserts

Bacon Lover's Deviled Eggs: What's a potluck without classic deviled eggs? Here's a way to combine two all-time favorites into one delicious treat. Try our easy bacon deviled egg recipe for that winning protein combo.

Six Layer Dip: A winner every time, Six Layer Dip has got lots of tasty layers without all the work. This Tex-Mex party favorite is chock full of yummy flavors and textures, plus it presents beautifully. Bring this dish to your next potluck!

Cranberry-Pecan Brie: This savory-sweet snack is a hit at the holidays and all throughout the year. Make easy , tasty Cranberry-Pecan Brie for your next party and enjoy the raves!

Fresh Corn Dip: What a novel dip to serve when you're expecting company. Our Fresh Corn Dip that we suggest serving in an edible bread bowl is a super change of pace from traditional dip recipes.

Mini Quiche: These quick-to-fix Mini Quiche bake up in a heartbeat in muffin tins. They're perfect as a grab 'n' go egg breakfast, brunch food or a tasty party appetizer.

Quick Guacamole: Ripe avocados and a few basics are all you need to whip up this fresh-tasting guacamole that'll make you wonder why you ever brought home store-bought!

Watermelon Salsa: Beat the heat with our fresh Watermelon Salsa! It has a cool and refreshing taste that goes perfectly on chicken and fish. Of course, you can always enjoy this fruity dip with pita or corn chips, too!

Off the Hook Cocktail Spread: Looking for a spread that will really hook your guests? Look no more 'cause our "Off the Hook" Cocktail Spread is a winner in taste and presentation. If they fill up on this, you might even be "off the hook" for dinner!

Pimiento Cheese Dip: This warm party spread gets its novel taste from flavorful pimientos! Put out a platter of your favorite crunchy crackers and get ready for this creamy Pimiento Cheese Dip anytime!

Jumbo Shrimp Cocktail: Whether you're entertaining by the pool, at a picnic, or in your own backyard, our Jumbo Shrimp Cocktail are always a super hit with meaty jumbo shrimp and fresh cocktail sauce!.

Black Bean Chipotle Hummus: We've switched out the garbanzo beans with black beans for a southwestern-style Black Bean Chipotle Hummus that's a change of pace from traditional hummus.

Baked Spinach and Artichoke Dip: Check out our lightened version of the classic appetizer, Spinach and Artichoke Dip . Bet you can't tell the difference!

And for more Party Pleasing Appetizers, check out our 40 favorites here!

Rainbow Stacked Salad: This rainbow of colorful salad fix-in's stacks up to be an easy summer main dish salad. With a variety of fresh-tasting ingredients from our market refrigerator and freezer section, Rainbow Stacked Salad is super for entertaining.

Best Broccoli Salad: We've got what we think is the Best Broccoli Salad, and we're betting you'll agree! This garden-fresh broccoli salad is tossed in a creamy homemade dressing and livened up with a few surprises. It's sure to be one of your favorite easy salad recipes!

Refrigerator Layer Salad: Refrigerated Layered Salad is a super make-ahead salad that holds up well and looks as good as it tastes. With a rainbow of colorful layers and taste bud-pleasing textures, this salad recipe is perfect for entertaining.

Summer Potato Salad: Our fresh-tasting Summer Potato Salad made with all-American Idaho potatoes will conjure up memories of lazy summer afternoon family picnics. How 'bout making some new memories with it this summer?

Country Fruit Stand Salad: Country Fruit Stand Salad gets its taste from homemade ginger ale, orange juice and honey marinade. This trio of flavors turns an ordinary fruit salad recipe into something special.

Corn Salad: Corn Salad is the perfect dish to mix up for a quick side dish or to bring to a potluck or picnic. With fresh veggies, sweet corn, and the tanginess of the dressing, it's a light and easy to throw together side!

Pasta Fruit Salad: Need a unique dish to bring to your next potluck extravaganza? Our Pasta Fruit Salad is the perfect colorful standout dish that will impress even the pickiest of palates. Best part? It's not only simple to make, but healthy too!

Confetti Couscous Salad:This colorful confetti of tastes and textures from the veggies to the Feta cheese livens up our chilled Confetti Couscous Salad. Get ready for raves when you serve this super change of pace go-along at any of your gatherings.

Chilled Stacked Salad: Chilled Stacked Salad is a colorful and easy make-ahead layered salad that is perfect for easy summer entertaining. It's beautifully presented, and among our favorite easy salad recipes for potluck parties.

Taco Potato Salad: Potato salad lovers will rejoice in this novel twist on a favorite cold summer salad. Boasting a fiesta of flavors, our Taco Potato Salad is sure to be the talk of your patio party.We know once you start snacking, you'll never stop!

Basic Macaroni Salad: Our easy recipe for Basic Macaroni Salad is a potluck staple. No frills here! Just the same classic taste you love, and remember growing up with.

Bacon and Egg Macaroni Salad: We have given popular macaroni salad a homemade makeover by adding the smoky flavor of bacon and the heartiness of chopped eggs.

Classic Barbecue Ribs: Stop slavin' over the grill, and let your slow cooker do the work! Your gang will think you're a BBQ grill master once they taste these flavor-packed, fall-off-the-bone tender Classic Barbecue Ribs .

Make Ahead Fajitas: Who would have thought you could turn fajitas into a potluck dish? Get these ready ahead of time, and pop them in the oven. Everyone will love this easy Make Ahead Fajitas recipe!

Hot Dog Kebabs: Not your usual kebabs, these hot dog kebabs are fun and colorful, and they taste great , too! You'll love the flavor-packed sauce over bite-sized pieces of hot dogs, bell peppers, corn, and onions for a sure-fire hit with the kids and everybody!

Crunchy Macaroni and Cheese: For kids and adults who are big macaroni and cheese lovers, our baked dish of Crunchy Macaroni and Cheese is pure heaven. With the addition of the crackers on top, it becomes a crunchy, creamy delight!

Pulled Brisket Sliders: We've given traditional sliders a change of pace makeover by substituting fork tender beef brisket for the usual mini burgers. Our flavorful onion-y Pulled Brisket Sliders may be small in size but they're big on taste.

Big Top Steak Skewers: Our Big Top Steak Skewers are a salute to the balancing poles used by circus tight rope walkers. Except ours are woven with strips of tender marinated beef, and seasoned in a flavorful marinade, which make 'em amazing!

Old World Spanish Chicken: This saucy Old World Spanish Chicken one-pot is chock-full of fresh-tasting ingredients guaranteed to deliver full, comforting flavor. Its traditional flavors will transport you to another era!

Easy Tortellini One Pot: Take a stroll through the frozen food aisle at the supermarket and grab everything you need to make our Easy Tortellini One-Pot. It only takes 20 minutes, and it doesn't get much easier than that!

Secret Recipe Chili: This secret Texas beef chili recipe comes as a special gift to us, direct from the Goode Company Bar-B-Q restaurant in Houston, Texas, where Texas chili is king.

Festival Sausage Bake: Festival Sausage Bake is huge and hearty. Its large portions and smorgasbord of ingredients will remind you of the big pasta bakes your mom used to make.

Cheesy Bacon Pierogi Bake: This one is pure comfort food heaven! Our hearty Cheesy Bacon Pierogi Bake is chock full both creamy texture and smoky flavor! This stick-to-your-ribs dish does double duty as both a side dish or a main dish!

My Own Italian Meatballs: Everyone has a favorite meatball recipe, and we've tried tons of 'em! We think Mr. Food's My Own Italian Meatballs recipe takes first place. They're easy to make and easy to say, "OOH IT'S SO GOOD!!®"

Backyard Bean Bake: Perk up your next party with our Backyard Bean Bake and enjoy the tastes of an old-time barbecue. And shh... no need to tell anyone this easy baked bean recipe started with canned baked beans!

Fried Green Tomatoes: Looking for an easy recipe for Fried Green Tomatoes? Mr. Food has the answer with this down-home southern classic you can make no matter where you live!

Sausage Stuffed Mushrooms: This Italian sausage stuffed mushrooms recipe is one of our favorites because it's so versatile. Serve 'em up as an appetizer for guests or work it into your main meal. It's gonna be a treat!

Baked Stuffed Peppers: Our Baked Stuffed Peppers are over-stuffed with veggies for a super change-of-pace easy side dish. And the colorful bell peppers serve as tasty, edible bowls! Who wouldn't love a potluck recipe like that?!

Scalloped Potatoes and Ham: There's more than one way to be a ham, and making masterpieces in the kitchen is one of 'em. When you want to please the gang, this creamy scalloped potato recipe will win you loads of raves.

Amish Broccoli Bake: Nothing store-bought compares to the homemade goodness of the rich and creamy taste of this delicious vegetable casserole. Our Amish Broccoli Bake might just make veggie lovers out of your finicky gang.

Garden Pasta Toss: If you can't decide between making a pasta salad or making a veggie salad, then you'll love our Garden Pasta Toss! It satisfies your cravings for both!

Scalloped Potatoes: Scalloped? Au gratin? Creamed? Whatever you call them, everyone will say "OOH IT'S SO GOOD!!®" about this Scalloped Potatoes recipe.

Pineapple Freezer Cake: When it's hot out and we don't want to turn on the oven, how do we bake a special cake? We pop it in the freezer! Yep, trust us by making Pineapple Freezer Cake. This easy no-bake dessert is a fan favorite for a reason!

Cherry Nut Cobbler: Be ready for loads of compliments when you serve up this yummy Cherry Nut Cobbler. Lots of shortcuts in this recipe make it super easy for you, but no one will ever know that for you, this fruity creation was a cinch!

Sunny Party Pie: Looking for an easy-to-throw-together pie that's full of sunshine? Our Sunny Party Pie will do the trick!

Corn on the Cob Cupcakes: You won't believe how easy it is to make these great-looking, picnic-perfect Corn on the Cob Cupcakes!

Turtle Pie: You know those yummy chocolate caramel candies that are shaped like turtles? We've put that same gooey, rich taste into our Turtle Pie!

Fudgy Brownies: These are the Fudgy Brownies that we all loved as kids. You remember how good they were, but do you remember them being this simple?

Walnut Cake: Greek bazaars are known for their great food and incredible desserts, and that's just where we got this recipe! The Greek woman who shared it with us spoke very little English, but her baking communicated smiles to everybody.

Key Lime Cake: For an easy homemade dessert, tart and tangy Key lime juice adds instant flavor appeal to a store-bought lemon cake mix to create our yummy Key Lime Cake. This cake is a bit different from a classic Key Lime Pie, yet just as rich and enjoyable.

Chocolate Peanut Butter Pie: The classic combo of chocolate and peanut butter makes for the perfect marriage in our Chocolate Peanut Butter Pie. It's easy to whip up, and better than anything you can buy at the store!

Blonde Cookie Bars: Looking for a break from regular cookies? Bar cookie recipes are the perfect option! These Blonde Cookie Bars are sure to satisfy even the biggest choco-holics, plus, they're ready in only 30 minutes!

Amish Molasses Oatmeal Pie: Treat yourself and your guests to the homey and wholesome flavors in our Amish Molasses Oatmeal Pie and you'll see why this is one of our most requested Amish dessert recipes!

Easy Ice Cream Cake: Really, who doesn't love a good ice cream cake? Now you don't have to get one from the store. Our Easy Ice Cream Cake is just that -- easy! There ain't nothin' better than homemade.

Raspberry Icebox Cake: Whether you're looking for an easy potluck dish to bring to the block party or you just want a simple dessert to serve up after dinner on a warm summer day, this Raspberry Icebox Cake just simply can't be beat.

Cake Mix Cookies: Thanks to cake mix, these homemade cookies are almost effortless. What are you waiting for? These cookies use only four ingredients and are ready in 10 minutes! Tear open a package and reap the rewards!

For more easy potluck recipes, check out these 44 make-ahead dessert recipes. It's got favorites like Awesome Blueberry Pie and Candy Bar Cake!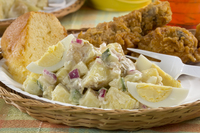 If you're looking for more great bring-along recipes, be sure to check out our collection, Perfect Picnic Menu: 53 Make Ahead Picnic Recipes.
Report Inappropriate Comment
Are you sure you would like to report this comment? It will be flagged for our moderators to take action.
Thank you for taking the time to improve the content on our site.
.05 06 16.