The Originators of Quick & Easy Cooking!

Game Day Recipes: 30 Best Munchies for a Crowd
Bonus: Get our newsletter & special offers for free. We will not share or sell your email address. View our Privacy Policy

Game Day Recipes: 30 Best Munchies for a Crowd
Free Game Day Recipes eCookbook from MrFood.com

Game Day Recipes: 30 Best Munchies for a Crowd
And... it's a touchdown! The gang's all here, and we're ready to serve up some tasty grub. Lucky for us, we've compiled this party recipe collection just in time for the big game! We've teamed up with our friends over at Idaho Potatoes to pull together Game Day Recipes 30 Best Munchies for a Crowd, the ultimate guide to winning the prize for Most Valuable Cook. For appetizer ideas, party snack recipes, and much, much more, this collection will surely earn you extra points.

Whether you're just going for the two-point conversion or you're looking to make it all the way into the endzone, these party recipes are second to none. When the big game is about to come on, why are you going to waste your money calling up the pizza place? Sports food is meant to taste just as good as anything you might find out at your favorite bar... without the hassle of actually having to leave your house on a cold day. These easy game day recipes are perfect for catering to whatever your crowd is looking for: finger foods for quick bites, homemade pizza for something a little more filling, party dips and spreads to dunk your favorite chips in, and some sweet treats for those looking for something besides the traditional fare. Plus, as a bonus, these easy snack recipes are great for packing up in your kids' lunches at school the next day so everyone in the family can get on board! Check out a sneak peek of what we've got in store.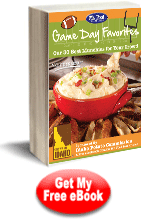 Download your free copy of Game Day Recipes: 30 Best Munchies for a Crowd today.
Got a case of the munchies? That's not a problem because we've got a wide array of finger foods to get you ready for the big game! The whole gang is gonna be clamorin' over our easy appetizer recipe for Half-Time Skins (page 1). Load up your potato exactly the way you like it for a customizable snack that everyone can get in on. Plus, if you don't want to heat up the house or need to make dinner at the same time, you can still cook up some easy party recipes in your slow cooker with our recipe for Slow Cooker Sweet and Sour Meatballs (page 4). Place a container of toothpicks at the ready for an easy grab 'n' go snack. For some more traditional sports food options, you'll certainly want to check out our recipe for Beer Soaked Buffalo Wings (page 15). Really, does it get more "game day" than that?
Put that pizza menu back in the drawer; we're cooking up a specialty pizza right at home! If game time falls during dinner, you won't have to worry about sacrificing something a little more filling just to make room for all of your appetizers and snack foods. Pizza works as both! Now, we guarantee you're not going to find some of these at your favorite pizza place. We've combined two of our favorite sports foods, pizza and potatoes, in this recipe for Potato Crusted Pizza (page 16). And if you're looking for something that's already been made bite-sized, you're going to love our classy pizza recipe for Potato Plank Bruschetta (page 18). Plus, if you need something with a little more grit to get you through the ups and downs of the big game, look no further than our snack recipe favorite for Touchdown Buffalo Chicken Pizza (page 18).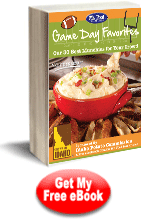 Download your free copy of Game Day Recipes: 30 Best Munchies for a Crowd today.

When everyone's gathered around the big screen waiting with bated breath for their team to score, the right snack food can change everything. You need something to quell those nerves, a munchie to nibble on when yet another timeout is called. When things are looking grim, your guests are going to be looking to their food for comfort, and these easy snacks and appetizers are going to be there, ready to distract at a moment's notice. Plus, since all of our recipes abide by the Test Kitchen philosophy of "Quick & Easy" cooking, you know that you're not going to be spending all day in the kitchen when you ought to be getting pumped up for the game. No waiting for the delivery guy to finally show up with your food; you eat when you need it.

Want to know the best part? You can pack up the leftovers for lunch the next day so you can have your favorite snack recipes long after the game's over. Whenever you're reaching for these munchies, you're reaching for a bit o' that signature "OOH IT'S SO GOOD!!"
It's dippin' time! Whether you're laying out a platter of fries, veggies, chips, pretzels, or anything else, you know it's the dip that's going to make or break it. That's where Idaho Potatoes and the Mr. Food Test Kitchen come in; we've got plenty of easy party food recipes for all of your game time gatherings. We start out with our favorite secret restaurant recipe for Steakhouse Dip and Potato Crisps (page 20). It's just like going out to eat (except you don't have to get all fancied up!). Make your night a Tex-Mex night with a heaping scoop of our traditional Six Layer Dip (page 23). Just make sure you aren't skimping on any of the layers when you dip - you've got to have them all in this appetizer recipe! Finally, the game day atmosphere isn't quite complete without, you guessed it, a bit of cheese. And what better way to work a little cheese into your spread than with our easy-to-make Cheddar Cheese Football Spread (page 24). Why should you have to choose between these party appetizer recipes? Make a few of 'em, and watch it all disappear!
It's alright to admit it - not everyone wants something salty or spicy when watching the game. Some of us are sweet tooths, and don't worry, we haven't forgotten about you either! Make the most of your leftover potato chips with one of our favorite cookie recipes for Potato Chip Cookies (page 26). Drizzle the end result with some melted chocolate for a bakery-worthy treat. If that's not enough chocolate for you, then you can sink your teeth into our Marbled Brownie Bars (page 27). Swirl together cream cheese and traditional brownie mix for a bite of that "OOH IT'S SO GOOD!!" Plus, you can bring out your inner artistic side by decorating some Game Day Cupcakes (page 29). This easy tailgating recipe would make an adorable addition to any game day spread, right between the hot dogs and case of soda.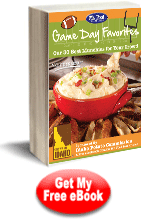 Download your free copy of Game Day Recipes: 30 Best Munchies for a Crowd today.
With your free copy of Game Day Recipes: 30 Best Munchies for a Crowd, you can also subscribe to our Mr. Food Quick & Easy Everyday Cooking newsletter to become part of a vibrant community of home cooking enthusiasts. In subscribing to the newsletter you will receive:

Six weekly emails with free recipes, tips, menu planning, videos and more
Chances to win cookbooks and other products from our giveaways and contests
Access to our free recipe collection full of thousands more free triple-tested recipes from the Mr. Food Test Kitchen
The opportunity to share ideas and help others in the cooking community

As a fan of the Mr. Food Test Kitchen's Quick & Easy cooking philosophy, I know you can see the value in this free ebook. Try out these easy sports recipes with the free Game Day Recipes: 30 Best Munchies for a Crowd. Once you subscribe to receive our newsletter, you'll see how much fun it is to be a part of the Mr. Food community! If you've ever searched for quick and easy recipes, fast dinner ideas, slow cooker recipes or anything in-between, let MrFood.com deliver triple-tested recipes straight from our Mr. Food Test Kitchen that are both easy to make and delicious to eat. Check out this free eBook and the MrFood.com site to draw tons of inspiration for your next holiday or meal!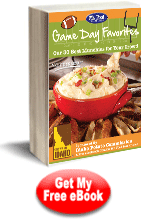 Download your free copy of Game Day Recipes: 30 Best Munchies for a Crowd today.

Report Inappropriate Comment
Are you sure you would like to report this comment? It will be flagged for our moderators to take action.
Thank you for taking the time to improve the content on our site.
.01 31 15.