The Originators of Quick & Easy Cooking!

Comfort Food for the Soul: 40 of Our Best Stews and Easy Soup Recipes
Bonus: Get our newsletter & special offers for free. We will not share or sell your email address. View our Privacy Policy

How to Butterfly a Chicken Breast
Ever wonder why the chicken dishes you order at a restaurant often look much bigger than what you make at home? Is it more food? Not always. So what's the trick? It's simple. It's a process called butterflying, and you can do it, too. Butterflying is basically a butcher's technique for splitting food horizontally, without cutting all the way through, then opening it up like the wings of a butterfly.
The most common reason for butterflying a chicken breast is so that it will cook evenly in about half the usual time, since it's not as thick. Howard shows you how to butterfly a chicken breast in the short video above. You can use the same technique to butterfly pork tenderloin, thick steaks, even shrimp. And if a recipe calls for stuffing a particular food, butterflying it allows you to do just that.
Check out our video above and the tips below on how to butteryfly a chicken breast.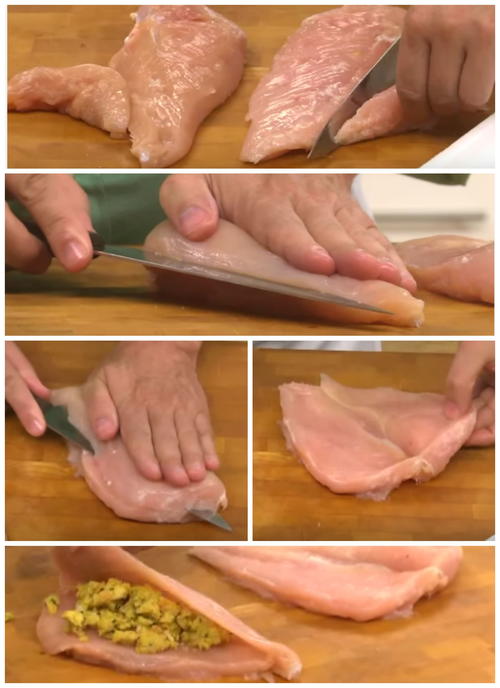 How To Butterfly a Chicken Breast
Place chicken breast flat on cutting board. If the tenderloin is still attached, remove and set aside. The tenderloin is a thin strip of meat that comes from the side of the breast (see collage above). Make sure to remove any excess connective tissue.
Hold a sharp knife parallel to the cutting board and begin cutting down the length of the side of the breast. Slice the food almost completely in half, stopping about 1/4 inch from the opposite side. While slicing, you can hold the chicken breast in place by pressing down on the top of the breast with your free hand.
Open the butterflied breast and stuff if desired. The breast will easily open up and you can pat it down to make it flat. You'll notice that it looks like a butterfly (and should also look a lot bigger than when you started). That's it! You can then stuff the chicken breast with whatever you'd like. Just fold the top over when done and bake.
Now that you know how to butterfly a chicken breast, practice your new skills with these easy recipes!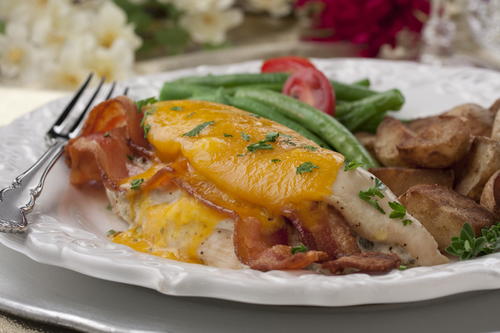 Since you know how to butterfly a chicken breast you can stuffed this chicken with spreadable cheese and bacon. Then top it with more cheese!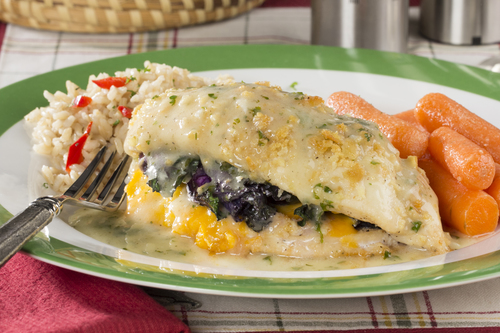 This recipe is so delicious with a yummy veggie, a crispy coating, and a buttery lemon-herb sauce. You just need to know how to butterfly a chicken breast.