The Originators of Quick & Easy Cooking!
How to Make Spaghetti Squash
Guess what? There's a guilt-free way to enjoy pasta, and it's super simple to make. What's the secret? Spaghetti squash! Low in carbs and high in yum, spaghetti squash is a healthier alternative to traditional pasta noodles. And 'cause it's a squash, you can be rest assured that you'll be eating your veggies with every bite. Nowadays, we're using spaghetti squash to make all sorts of dishes, which is why we thought we'd show ya how to make spaghetti squash the easiest way we know how. Once you've learned how to cook spaghetti squash you'll find yourself making it all the time!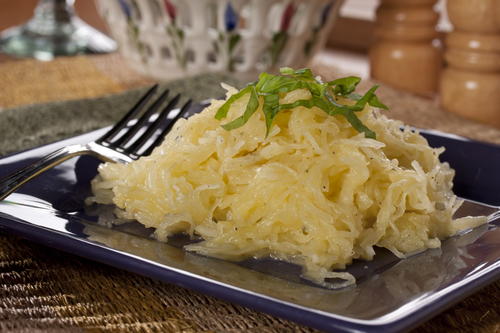 How to Make Spaghetti Squash
Choose a spaghetti squash that is pale and yellowish in color. You'll also want to choose one that's free of nicks and bruises.
Place your whole spaghetti squash inside a soup pot with a couple of inches of water.
Cover the pot and bring it to a boil. It should take about 20-30 minutes, depending on the size of your spaghetti squash. You know it's done when you can insert a knife into the center!
Remove from the soup pot and let it cool slightly. Then, cut it in half lengthwise, remove the seeds, and (using a fork) scrape out the tender flesh. You'll see for yourself why they call it "spaghetti" squash!
If you prefer cooking your spaghetti squash in the microwave or oven, you can do that too! For both, you'll need to start off by cutting the spaghetti squash in half and removing the seeds first. Then, place the cut side down on a microwave-safe baking dish or cookie sheet and microwave for about 15 minutes, or bake for about 40 minutes. Of course, it all depends on the size of your squash!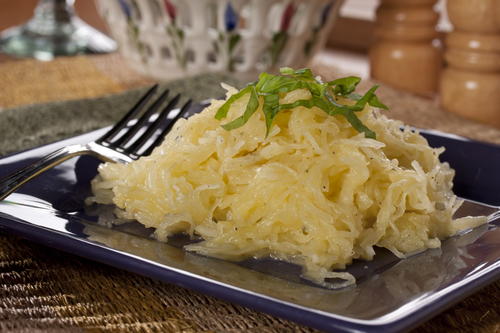 Spaghetti squash has a chameleon quality to it, 'cause it cooks up with the same taste as our favorite pasta dishes. Our easy-to-make spaghetti squash recipe will have even your finicky veggie eaters cleaning their "buttery" plates.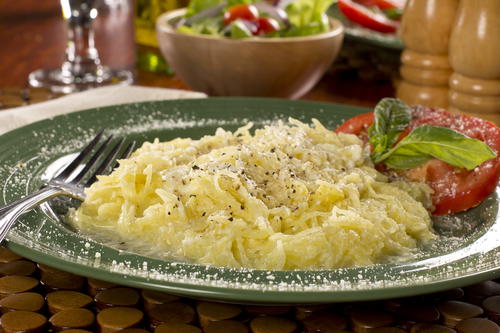 If you're craving Italian flavors, but you're trying to eat healthier, then you'll love this Spaghetti Squash Alfredo. It uses low-fat ingredients and a healthy veggie to create a flavorful dish that's amazingly delicious!