The Originators of Quick & Easy Cooking!
Mr. Food Fall Favorites free eCookbook
There's no time like fall to try out new recipes, especially warming ones that fill our homes with rich aromas and fill our tummies with great taste! Yep, I'll bet you're hungry for some satisfying comfort food recipes right about now.
We've got 35 quick and easy, no-fuss recipes for fall meals and desserts. There's everything from exciting meal-starters like Fontina Fondue and Apricot-Pecan Brie Tarts to Cheesy Potato Soup, Wild Rice Soup, and more. Then there are the hearty side dishes we look forward to at this time of year, when we really need "stick-to-your-ribs" go-alongs like Beefy Barley, Au Gratin Potatoes, Golden Corn Pudding and other classic dishes like them.
Of course, nobody will be able to resist warming main dishes like Burgundy Beef Stew, Cheesy Chicken Potpie, and the unique and popular Pizza Casserole, or timeless fall desserts such as Cranberry Cobbler, Apple Dumplings, Blueberry Betty, and Apricot Bread Pudding. Mmm, mmm!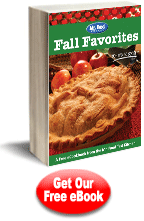 Click here to download the Mr. Food Fall Favorites free eCookbook now! [pdf]
Included in this 41-page eCookbook: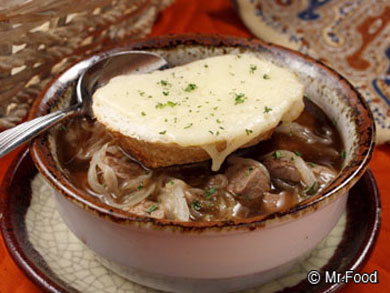 Fontina Fondue — The mild, nutty flavor of Italian fontina cheese makes this melty fondue a party-pleasing favorite! No matter what go-alongs you choose to pair with it for dipping, it will be the talk of the table! (Page 6)
Beefy Onion Soup — This beefed-up version of a classic onion soup gets its heartiness from beef chuck steak. Served with or without traditional cheesy-crusted French bread it is company fancy, yet weeknight easy! (Page 9)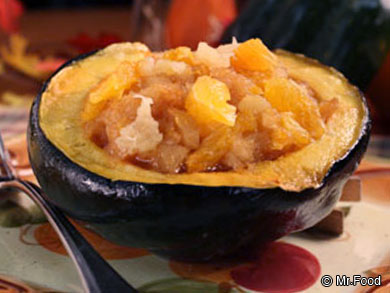 Fruited Acorn Squash — It's no problem getting the kids to eat their veggies when we give 'em sweet dishes like this Fruited Acorn Squash. It's one of those easy fall recipes that has just the right amount of sweetness, and it works as a side dish for practically every entree. (Page 19)
Buttery Cabbage — Often the best things in life or on our kitchen table are the simplest ones, and this buttery cabbage recipe falls into that category. The smoky bacon and nutritious cabbage are a match that proves this time and time again. (Page 21)
Au Gratin Potatoes — Au Gratin potatoes is an-all around comforting side dish that's a cheese-lovers dream! The duo of cheesy flavor from the Cheddar and Parmesan makes for a rich and creamy potato bake that'll pair with any main course, making it one of the best recipes for fall. (Page 24)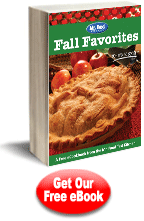 Click here to download the Mr. Food Fall Favorites free eCookbook now! [pdf]
Pork and Bean Chili — Mr. Food was honored to have American Diabetes Association spokesperson Nicole Johnson, Miss America 1999, help him demonstrate this nutritious pork and bean chili on his show. It's a good-for-you, tasty dish that we can ALL enjoy! (Page 31)
Apple Glazed Chicken — After reading this recipe name, are you thinking, "Apple Glazed Chicken, are you kidding?" We kid you not. These flavors really complement each other and treat your mouth to a taste sensation that you'll fall in love with. (Page 35)
Pizza Casserole — When you're ready for a change from plain old pizza, make this "wow" pizza casserole. It's got all the tastes you love about pizza in a whole new form. (Page 39)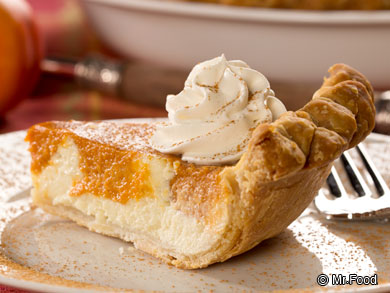 Piled-High Apple Pie — Apple pie is an all-American dish that's served everywhere from four-star gourmet restaurants to mom-and-pop diners. Not only is it a restaurant classic, but it's a great-tasting homemade family-pleaser, too. (Page 40)
Chocolate Caramel Brownies — A box of cake mix gets you started on this tempting chocolate dessert. Mix some up and enjoy the sinful sensation created by the gooey chocolate-covered caramels. Mmm! (Page 46)
Pumpkin Cheesecake Pie — Start off your Thanksgiving meal with a twist this year. Our velvety smooth Pumpkin Cheesecake Soup is a refreshing change of pace. If you love fall desserts like pumpkin pie, you'll love this soup. (Page 49)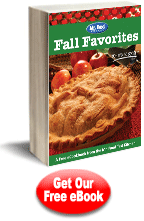 Click here to download the Mr. Food Fall Favorites free eCookbook now! [pdf]
For help downloading this eCookbook, please see our guide on how to download eCookbooks.
To view and download the complete collection of Mr. Food Test Kitchen eCookbooks, click here.
LATEST TV RECIPE & VIDEO
This easy yet elegant version of prime rib will rival anything you can find at the fanciest restaurant. Our Test Kitchen made sure that this one is low on work and high on good taste. Perfect for holiday entertaining or enjoying all year long.