The Originators of Quick & Easy Cooking!
04.14.17: Baseball, Fast Food, & Parks

Updated July 19, 2017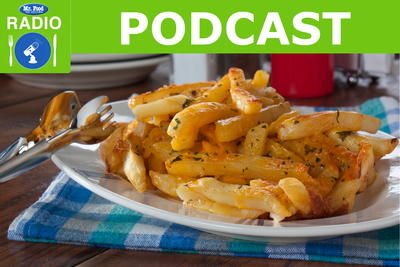 We're hitting it out of the ballpark this week with recipes inspired by some of your favorite game day memories. Plus, we're talking fast food - where it started, what our favorites are, and who has the best French fries (yes, there's a taste-test!). Make sure you stick around for our interview with Kathy Kupper from the National Park Service. She's giving us the 4-1-1 on Parks 101 (the theme for this year's National Park Week!). Before it's all said and done we're wrapping up the show with yet another taste-test; this time, it's mayonnaise! Make sure you listen all the way through, so you don't miss any of the "OOH IT'S SO GOOD!!®"

-Baseball Eats 'n' Treats (Begins at 0:00)
Featured Recipes: Old-Fashioned Peanut Brittle, Baseball Brownies, Pretzel and Beer Dogs, Hot Dogs with Chili Sauce
Featured Brands: Baby Ruth®, Ike's Place, Big Papi's Kitchen

-The Story of McDonald's + French Fry Taste Test (Begins at 9:00)
Featured Recipes: Mr. Food's Fast Burgers, Buttermilk Chicken Nuggets, Baked Cheddar Fries
Featured Movies: The Founder
Featured Brands: McDonald's®, Burger King®, Chick-fil-A®, Arby's®, Checker's®, Sonic Drive-In®

-Kathy Kupper, Spokesperson for the National Park Service (Begins at 20:58)
Featured Links: National Park Week

-All About Mayo (Begins at 31:59)
Featured Recipes: Chicken Macaroni Salad, Thousand Island Dressing, Zippy Tartar Sauce, Ultimate Grilled Cheese Sandwich, Homestyle Chocolate Cake
Featured Brands: Hellman's®, Miracle Whip®, Duke's®, KRAFT®

Want to be a part of the show? Just email your questions to radio@mrfood.com and you might be featured in one of our upcoming episodes!

Did you know you could listen to us on iTunes? Click here to check us out and subscribe!

Report Inappropriate Comment
Are you sure you would like to report this comment? It will be flagged for our moderators to take action.
Thank you for taking the time to improve the content on our site.
LATEST TV RECIPE & VIDEO
Say hello to sunshine, good-times, and Southern Peach Cobbler! Just imagine warm, gooey cinnamon peaches, a crusty crust, and a big scoop of vanilla ice cream and that's summertime in the South. But you know what? You don't have to be below the Mason-Dixon Line to enjoy this one!