The Originators of Quick & Easy Cooking!
08.11.17: Food at the Fair

Updated August 10, 2017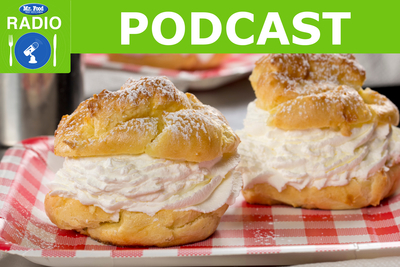 Join us as we talk about our favorite state fair foods from around the country! From cream puffs to corn dogs, there are plenty of tasty foods to learn about in this episode. Remember when we celebrated our favorite state fair foods last year? Well, we're sharing all of the tasty recipes with you again, and we bet you'll love them even more this year! Plus, join us for a chat with Dave Schmidt of the Wisconsin Bakers Association. He's sharing some fun info on what makes Wisconsin's cream puffs so popular. From foot-long hot dogs to fancy fare outside of the fair, this summer you'll have plenty of reasons to say, "OOH IT'S SO GOOD!!®"


-State Fair Foods Around the Country (Begins at 0:00)
Featured Recipes: Hot Beef Sundaes, State Fair Cream Puffs, Strawberry Italian Ice, Fried Cheese Curds, Easy Funnel Cakes
Featured Collections: State Fair Food Favorites
Featured State Fairs: Texas State Fair, Wisconsin State Fair, Iowa State Fair
Featured Articles: History of Dr. Pepper

-Our Craziest Fair Food Finds (Begins at 8:52)
Featured Fairs: Montana State Fair, North Carolina State Fair, Alaska State Fair, New York State Fair, Oregon State Fair, California State Fair
Featured Products: Specialty Meats & Gourmet

-Interview with Dave Schmidt of the Wisconsin Bakers Association (Begins at 20:54)
Featured Products: Original Cream Puff

-The Right Way to Pronounce International Favorites (Begins at 31:48)

Click here to find out where you can watch us on TV!

Want to be a part of the show? Just email your questions to radio@mrfood.com and you might be featured in one of our upcoming episodes!

Did you know you that you can listen to us on iTunes? Click here to check us out and subscribe!

Report Inappropriate Comment
Are you sure you would like to report this comment? It will be flagged for our moderators to take action.
Thank you for taking the time to improve the content on our site.