The Originators of Quick & Easy Cooking!
02.17.17: National Snack Food Month

Updated May 17, 2017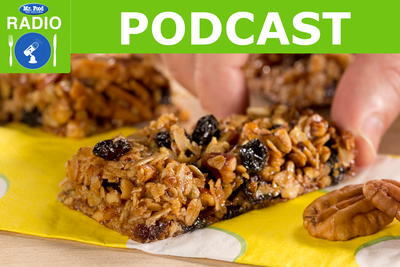 It's National Snack Food Month and we've got plenty of tasty ideas to get you through to the next meal! From grab 'n' go treats to our store-bought snacks, we're sharing some of our favorites! Join us as we snack on dates and share some tasty ways for you to add this fruit into your diet. Plus, we chat with Stephanie Barlow of the National Watermelon Promotion Board about the many ways that you can enjoy watermelon all year long. And before you go, join us in wishing Vanna White, co-host of Wheel of Fortune, a very "Happy Birthday!" (we're sharing some fun facts and her favorite Southern desserts!). So, grab a snack and join us as we give you even more reasons to say, "OOH IT'S SO GOOD!!®"

- The Test Kitchen Crew's Favorite Snacks (Begins at 0:00)
Featured Recipes: Grab 'n' Go Granola Bars, Awesome Munchies, BLT Bites, Crunchy Blue Cheese Stuffers
Featured How-To's: How to Make Hard-Boiled Eggs
Featured Brands: Utz®, Pringles® Crisps, Frito-Lay®, Cheetos®

-All About Dates! (Begins at 8:59)
Featured Recipes: Date Shakes, Date Nut Bread
Featured Events: Riverside County Fair & National Date Festival

-Interview with Stephanie Barlow, Senior Director of Communications for the National Watermelon Promotion Board (Begins at 20:59)
Featured Recipes: Pickled Watermelon Rind, Watermelon Wine Spritzers

-Wish Vanna White, co-host of Wheel of Fortune, a Happy Birthday! (Begins at 32:00)
Featured Cookbooks: Mr. Food Test Kitchen Wheel of Fortune Collectible Cookbook
Featured Pages: Wheel of Fortune Facebook Page, Vanna White's Instagram Page
Featured Products: Lion Brand® Yarn's Vanna's Choice® Yarn

Want to be a part of the show? Just email your questions to radio@mrfood.com and you might be featured in one of our upcoming episodes!

Did you know you could listen to us on iTunes? Click here to check us out and subscribe!

Report Inappropriate Comment
Are you sure you would like to report this comment? It will be flagged for our moderators to take action.
Thank you for taking the time to improve the content on our site.
LATEST TV RECIPE & VIDEO
Hosting a party or attending a potluck? Break out the pita chips and set out a bowl of this Summer Party Salad. This diabetic-friendly salad is full of color, taste, and nutrition 'cause it's loaded with a variety of delicious summer veggies!