If you've ever hosted Christmas before, you know that putting together the perfect menu is extremely hard. You may be a seasoned veteran and have all your Christmas ducks in a row when it
comes to grocery shopping for your favorite holiday recipes. If this is your first year, well, hang onto your Santa hats, because it can be a frustrating, hair-graying experience that has you hitting the Eggnog a little hard.. Either way, whether you've hosted several times or if you're a rookie learning the ropes, here at the Mr. Food Test Kitchen we have a few tips that might help making the grocery list for your holiday recipes a little bit easier. I've given up on the gray-hair though. Nothing can stop it now.
Let's Get Started!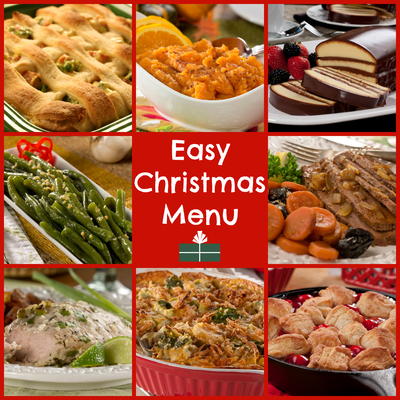 Making a List & Checkin' it Twice
Okay, so even if the kids are naughty this year, chances are you plan on feeding them. While Santa may fill their stockings with coal, you'll be making a list of another sort. A grocery list for all the delicious food you'll be cooking for Christmas. First, you need to grab your holiday recipes and figure out what you need. I'd suggest probably doing it on some scrap paper, because this first list, is not going to be your final list. Oh no. This list is probably going to have ink blots and things crossed out. It doesn't matter how it looks, because you're just getting all of your information in one place. Two recipes may call for one ingredient, and you may realize you've written it twice, when really you can just update the amount you need. So once everything is visual and in place, you can add, subtract, and make sure the measurements are correct so you don't over or under buy something.  So make sure you double and triple check everything. It will save time later at the store, so you don't get lost in a Labyrinth of food aisles.
Pro Tip: Don't be afraid to mess the paper up, write things in the margins, or jot fun notes. You might come up with new ideas.
There's an App for That
Today, there's pretty much an app for everything, and that includes grocery lists. This is a great tip if you already have your hands full of twenty-different things. Generally, one of things is a phone. Apps are a useful tool when it comes to organizing that mess of a list you just scribbled all over the paper. I don't want to have to fight through a smear of chocolate from my cookie bars while searching for the ingredients to my favorite ham glaze.  So, instead, I experiment with a bunch of different grocery list apps until I found one that's best suits my needs. Then, I plug the information in, and when I get to the store, it's an ease of one thumb swiping instead of trying to pull out a paper list. It would probably just get torn apart as I attempt to elbow my way through the gaggle of last-minute shoppers anyway. (Yes, I am a procrastinator.) Apps can also help you with easy organization. So don't be afraid to try one to see if it works for your holiday recipes.
Pro Tip: Try a few different apps before deciding on one. It's as simple as deleting the ones you don't like off your phone.
Good Old-Fashioned Paper
Sometimes, apps just don't do what we want. I love to BuJo (Bullet Journal). I list like crazy in them, and when it comes to organizing, in my opinion, there's nothing better. You could even sketch pictures of that favorite side dish, or maybe print out and glue recipes into the pages. Sometimes, my lists are not organized to the untrained eye. For me, they work how I need them to. There is order to my chaos, but if you need a little bit more organization, make an old-fashioned grocery list for your holiday recipes. One tip that I find that works for me, is making sure it's ready to go based on the route I take in my favorite store.
So once everything is together, I make a mental map and write out the list accordingly.
Pro Tip: Experiment with the type of lists that work best for you.
Do Not Panic!
Even when we think we're the most organized during the holidays, things can come up we don't expect. Don't let it stress you out too much. Chinese food was an unexpected, but endearing holiday memory in A Christmas Story. So, even the blunders this season can become great great memories to carry into the new year.
Pro Tip: Take a long nap when it's all over!
I hope these tips help you out this holiday season. Remember, try a few things until you figure out what's best for you. No matter what, remember to take some time to enjoy the holiday season.
Do you have a pro tip for organizing the grocery list to fit your holiday recipe needs?