For the first time, I'm going to be planning and cooking an entire Thanksgiving dinner with my roommate. I've helped out my grandma and aunt in the past; somehow I always got put on potato peeling duty, partly to get me out of the way and partly because I don't think anyone actually wants to peel all the potatoes. This year, however, I'm not spending Thanksgiving with my family, and I'll finally get to experience all of the other parts of the holiday, including the dreaded turkey.
While I think I'm an okay cook relative to many of my peers, I don't yet have the same instinct that my grandma always seemed to have. I loved watching her cook and would try to pick her brain while she was cooking to try to absorb some of her wisdom. I was usually one step behind though because she had cooked so much that she had all of these recipes in her head. She didn't refer to recipes; instead she went by "feel." I'd ask her how much milk to add to the mashed potatoes, and she'd tell me "until it looks good." Faced with that measurement, I'd usually severely underestimate the amount of milk to add because it seemed much easier to add more milk than locate more potatoes to solidify the mixture.
My roommate and I sat down the other day to make a list of all the dishes we wanted to make for Thanksgiving along with a list of kitchen tools and serving dishes we needed to get. I'm already scouting MrFood.com for recipes because my first Thanksgiving needs to be as simple as humanly possible, namely the easiest Thanksgiving dinner ever. While I don't quite have the natural cooking instinct my grandma had, my hope is that by starting with the basics like these, I'll be one step closer to really learning how to cook like a pro.
The Easiest Turkey Ever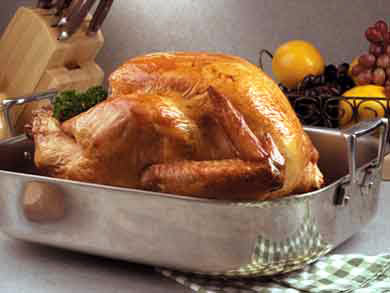 Classic Roast Turkey: The turkey is probably the most intimidating part of a Thanksgiving dinner menu, which is why this super simple recipe is going to be a lifesaver. It only uses 7 ingredients, 5 of which are everyday spices you've got in your pantry.
The Easiest Stuffing Ever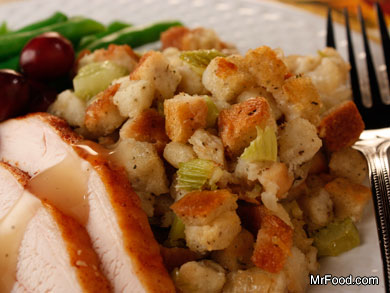 Traditional Herb Stuffing: I have no idea whether I will attempt to cook stuffing inside the turkey on my first go-around, but this stuffing casserole is almost too good to be true. It only uses five ingredients and can be thrown together in about 15 minutes, which is perfect when I'm trying to juggle a whole bunch of different recipes.
The Easiest Mashed Potatoes Ever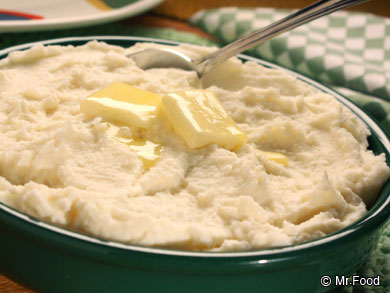 Best Mashed Potatoes Ever: I want my Thanksgiving dinner to largely be made from scratch, which means I refuse to make mashed potatoes from a box mix. This 5-ingredient recipe is so simple and so classic that I can't believe I've not tried it before. It does mean though that my potato peeling days are not yet over.
The Easiest Sweet Potatoes Ever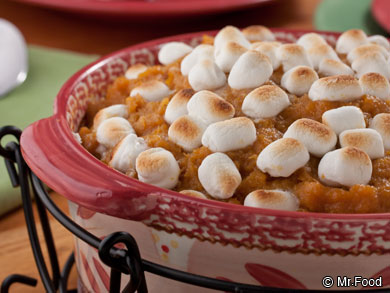 Marshmallow Sweet Potato Bake: You can skip the marshmallow topping if you'd like, but really, how could you say no to a combination like sweet potatoes and marshmallows? If you've got kids to impress, you know they'll be clamoring for an extra scoop.
The Easiest Green Bean Casserole Ever
Crunchy Baked Green Beans: This green bean casserole is the perfect, simple bring-along dish if you're not planning to host a Thanksgiving dinner. You can even make it a few days ahead of time and freeze it until you're ready to go, so you don't have to worry about being rushed on the big day.
The Easiest Cranberry Sauce Ever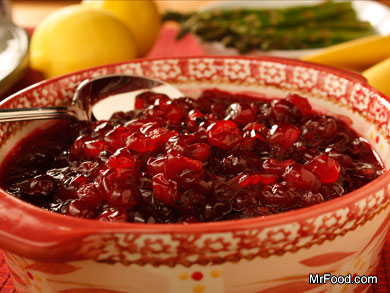 Baked Cranberry Sauce: This recipe only has 3 ingredients. Yes, I'm serious. That's how simple it is. You could leave your cranberry sauce as an afterthought and still put together something extra yummy.
The Easiest Pecan Pie Ever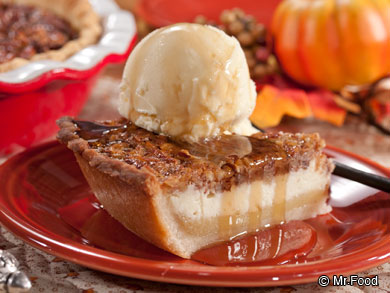 Four-Layer Pecan Pie: This is our most popular Thanksgiving pie recipe every year, and it's super easy to make. With a combination of crunchy and creamy layers, it's one pie recipe you won't forget.
Did I forget anything? What part of Thanksgiving dinner do you look forward to the most? Let us know in the comments below!