Can you believe Thanksgiving's next week?! Where on earth did November go? If the panic is just starting to set in that you've got an entire meal to plan and a dozen people to host, then I'm here to tell you that everything is going to turn out just fine. You've still got almost a week to pull everything together and, let's face it, you're going to make everyone bring along a dish anyway, so you really just have to worry about the turkey, appetizers, and decorations.
The difference between a pretty good Thanksgiving dinner and a truly memorable one is all about the presentation. Did you put any thought into the centerpiece or did you just set out all the dishes buffet-style with some heavy duty paper plates and plastic silverware? While dressing up the table may not be everyone's cup of tea, having a thought-out display doesn't have to be intimidating!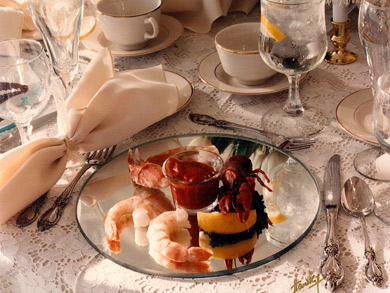 Place Settings
Place settings generally follow an established pattern. The important thing to remember about setting out everyone's silverware is that they're going to be working their way from the outside in. That means salad forks and soup spoons go on the outside while the dinner fork and knife go on the inside. Forks go on the left side of the plate while the knife and spoon go on the right. The blade of the knife should be pointed in, not out. Drinking glasses should be placed above the knife and spoon on the right while bread plates should be placed above the forks on the left. Napkins can either be folded beneath the forks or folded up all fancy on top of the dinner plate.
Napkin Folding Ideas
Do you ever go to a fancy restaurant and wonder how they managed to get the napkin folded so nicely? It's your turn to impress, and you don't need to be a master at the art of napkin folding to make your place setting look nice. Choose whatever level you're most comfortable with, and make sure to have some fun!
Turkey Napkin from Between Naps on the Porch
Bow Tie Napkin from A Place for Us Blog
Triple Pocket Napkin Fold from Smarty Had a Party
Table Decorations
Now comes the fun part: decorating the table! This is the time where you can really go all out and show off your innate crafting skills. You don't need to go out and fill a shopping cart with fall-colored plates and table runners to get the desired effect. In fact, you can get your best decorating tools by just stepping outside! You can create lovely fall-themed table displays using leaves, twigs, and pinecones you pick up from a nearby wooded area. Just make sure they aren't full of bugs when you put 'em on the dinner table! While we've got a few decorative projects below, be flexible to what you have available. See what items are on sale at nearby craft stores and fish out that decoration box from the attic and see what you've got!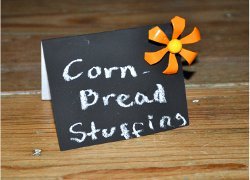 Custom Chalkboard Place Tags from All Free Holiday Crafts
DIY Table Runner from Positively Splendid
Fall Candle Centerpiece from That's What Che Said
Kids' Table Decorations from Hoosier Homemade
Rustic Wooden Centerpiece from Bunches and Bits
Remember to leave plenty of room for your food! It is, after all, the most important part. You may want to have the table set the night before with placeholder dishes to make sure you've got plenty of space for everyone to chow down.
Don't forget to check out our Thanksgiving Survival Guide to check out all of our Thanksgiving cooking tips and tricks!
What's your go-to holiday decorating tip? Let us know in the comments below!