Have you taken a trip to your local farmer's market yet this summer? With so many different kinds of fruits available, it's hard to know exactly where to start! We're here to help you decide which kind you should pick up at the market this weekend with a fun quiz to tell you which fruit fits your personality best!
Answer the questions below and find out which summer fruit fits you best!
1) You're heading out to a summer potluck and want to bring along a dish to share with your family and friends. Which of these would you be most likely to bring?
A) A fun, fruity punch recipe you just found and had to try to make!
B) Homemade cookies from a recipe that's been in your family for generations
C) A themed cupcake recipe from your favorite movie or TV show
D) Who'd turn down a plate of finger sandwiches?
E) Two plates of homemade brownies, one of which is gluten-free, so all of your friends can enjoy
2) It's movie night! What kind of flick are you looking to watch?
A) Action: You just love how quickly the plot moves and how you get to see all of these unbelievable special effects in action.
B) Romantic Comedy: There's not better way to wind down at the end of a long day than with a few laughs and a feel-good ending.
C) Independent Movie: You just love how these kinds of movies always have something thoughtful to say and are anything but run-of-the-mill.
D) Oscar-nominated Drama: Everything is of the finest quality from the production to the music to the acting… and you wouldn't have it any other way.
E) Fantasy/Science Fiction: You're looking for an escape into a fully realized universe. The muggles wouldn't really understand.
3) You only have a half hour to visit the animals at the zoo. Which exhibit do you head toward first?
A) Monkeys: You love watching them swing around from branch to branch.
B) Dolphins: They're so friendly and fun; you could sit and watch them all day!
C) Penguins: You never get the opportunity to see penguins out in the wild. You'd never miss out on seeing them at the zoo!
D) Lions: How could you go to the zoo and not see the majestic pride of lions?
E) Wolves: You're drawn to their sly, thoughtful nature.
4) You're given ten minutes to run around the grocery store and fill your cart to the brim with whatever you'd like. What do you make sure to grab?
A) Candy and chocolate: You can never have too many treats lying around the house.
B) Baking ingredients: You've got to make sure your pantry is well-stocked for the cookies you were going to make for the next book club meeting.
C) Ingredients from the international aisle: Now's your chance to try making your favorite international cuisine at home! It's so much fun to cook new things!
D) Meat and chicken breasts: You've got some room in the freezer to start stocking up on some dinner staples, so you won't have to make as many trips to the grocery store in the coming weeks.
E) Canned goods: If you're filling up a whole cart with food, you want to make extra sure nothing's going to spoil!
5) You're picking out some new hand soap for the kitchen. What scent do you choose?
A) Something bright and fruity
B) Something vanilla or cinnamon
C) Something seasonal before it's gone
D) Something fresh and classic
E) Something floral
Time to find out the results! If you answered…
Mostly A's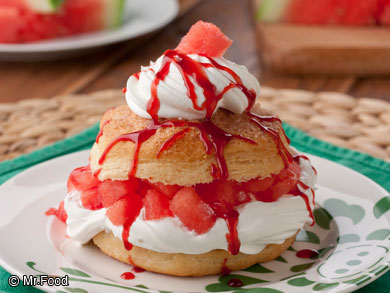 You're watermelon! You're an energetic individual that's always a breath of fresh air. You love spending time outdoors, especially during the summer, and you've been called the "life of the party." Some great watermelon recipes for you to check out include:
Watermelon Patch Shortcake
Watermelon Margaritas
Watermelon Snow Cones
Mostly B's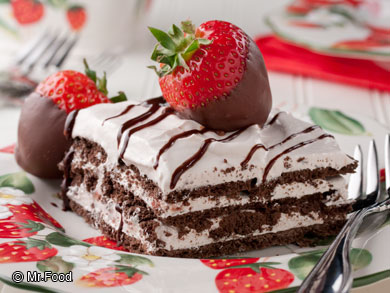 You're strawberry! Everyone knows you're a total sweetheart, always willing to help a friend in need. Your kind and giving nature makes you someone that everyone wants to keep around for the long haul. Some great strawberry recipes for you to check out include:
Strawberry Icebox Cake
Strawberry Cheesecake Bars
Strawberry Rhubarb Pie
Mostly C's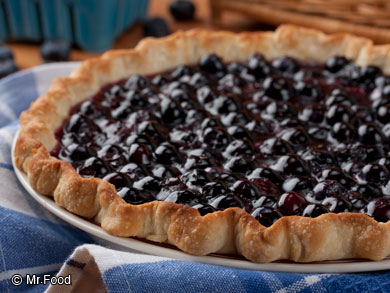 You're blueberry! You definitely like to stand out from the crowd and make your own way through life. You've got a unique perspective on events and love finding opportunities to be creative and try new things. Some great blueberry recipes for you to check out include:
Awesome Blueberry Pie
Blueberries 'n' Cream Cake
Neighborhood Blueberry Coffee Cake
Mostly D's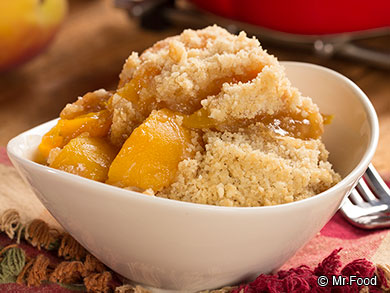 You're peach! You're a classy, sophisticated individual whose confidence is a magnet to everyone around. You usually take the lead when organizing group events because you're such a wonderful planner. Some great peach recipes for you to check out include:
Peach Cobbler
Peach Upside-Down Cake
Peachy Keen Cream Pie
Mostly E's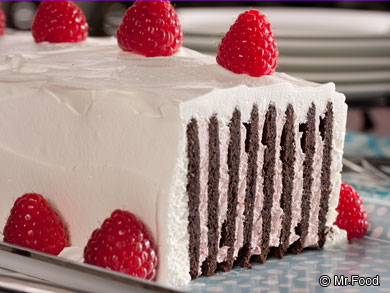 You're raspberry! You may not be the loudest or most animated individual, but your introspective and thoughtful nature gives you a quiet confidence that has served you well. Others are often looking to you for your guidance and wisdom. Some great raspberry recipes for you to check out include:
Chocolate Raspberry Loaf
Lemon Raspberry Cupcakes
Raspberry Scones
Which summer fruit did you get? Let us know in the comments below!