The Originators of Quick & Easy Cooking!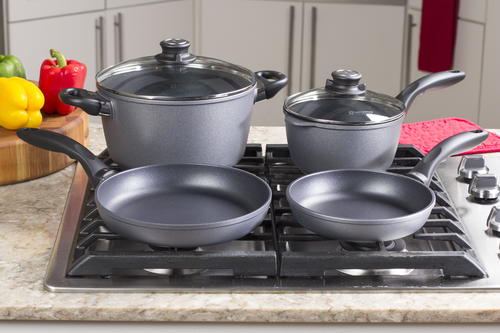 Swiss Diamond 6 Piece Set: Newlywed Kitchen Kit
https://www.swissdiamond.com/
Reviewed by the Mr. Food Test Kitchen
Recently, we received Swiss Diamond's 6-piece Newlywed Kitchen Kit to review. This cookware set includes an 8-inch skillet, a 9.5-inch skillet, a 2.2-quart saucepan with lid, and a 5.5-quart soup pot with lid. We found that this set is ideal for couples and small families, and overall we like the look and feel of this Swiss Diamond cookware set.
Our Test Kitchen was able to test the cookware on a variety of recipes, from skillet breakfast dishes to hearty soups and stews. We found that the cookware cooks very evenly. We did not encounter any problems with food sticking to the bottom of the pots and pans, thanks to the nonstick diamond coating. We were even able to sear meat and fry perfect sunny-side up eggs without having to deal with a sticky mess. A downside for some home cooks may be that this cookware tends to be on the heavier side. While the weight of each piece gives it a sturdiness and reliability that we like, the average user may feel like it's a bit heavy.
The pots and pans were easy to grab and move around, thanks to a comfortable handle design that managed to stay cool, even during stovetop cooking. The two soup pot lids feature an adjustable steam vent, too, which helps prevent any boiling over issues and provides more visibility into your pot. Another great feature is that all the pans that we tested could be used on the cooktop, and could go into an oven, up to 500 degrees.
This Swiss Diamond cookware set is dishwasher-safe, but we washed ours by hand, as we do with all of our dishes. This is also the recommended method for care, as per the manufacturer.
Overall, we think the Swiss Diamond 6-Piece Newlywed Kitchen Kit has a great design and is a worthy investment for anyone looking for cookware that will last for many years with the proper care.
Enter to win Swiss Diamond's Newlywed Kitchen Kit from 11/16/2015 through 12/13/2015
LATEST TV RECIPE & VIDEO
Sounds pretty fancy, huh? Actually, mostaccioli pasta is simply a mustache-shaped tube pasta. You can use any shape, though, including penne, ziti, or shells, and this will still taste great.