The Originators of Quick & Easy Cooking!
RECIPES & VIDEOS

We can't think of a better way to celebrate summer than with a few of our coolest and sweetest treats. Check out some of the desserts you absolutely have to try this summer.

It's time to flash back to some of your favorite recipes from your childhood! There might be none more beloved than mac 'n' cheese. Relive your old favorite dinners by trying out one of these variations.

It's not quite summertime until you indulge in some of your favorite fruity dishes! Check out some fruit-astic collections you're sure to love.
FREE eCOOKBOOKS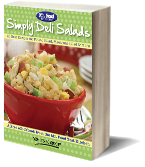 28 Best Recipes for Potato Salad, Macaroni Salad and More
Click Here