The Originators of Quick & Easy Cooking!
RECIPES & VIDEOS

There are so many creative ways to cook with macaroni that we can't decide which of these to make first!

We love cooking with fresh produce from the market. Check out all the tasty ways you can cook with cauliflower!

If you're looking for an excuse to indulge in your wildest dessert fantasies, check out the array of sweets we've got in store!
FREE eCOOKBOOKS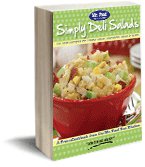 28 Best Recipes for Potato Salad, Macaroni Salad and More
Click Here