The Originators of Quick & Easy Cooking!
RECIPES & VIDEOS

State fair season is right around the corner. Break out the sunglasses and baseball caps and get ready for some fun in the sun!

Call up the neighbors! We're gettin' ready for quite the cookout and can't wait to share all of our best backyard eats.

Get ready for warm weather and sunshine with some of your favorite recipes from Pinterest!
FREE eCOOKBOOKS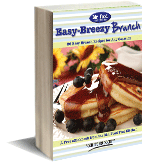 26 Easy Brunch Recipes for Any Occasion
Click Here