The Originators of Quick & Easy Cooking!
RECIPES & VIDEOS

State fair season is right around the corner. Break out the sunglasses and baseball caps and get ready for some fun in the sun!

Made too much lemonade for your neighborhood lemonade stand? Turn 'em into some sweet treats that everyone on the block will be clamorin' for.

Spend less time in the kitchen and more time outdoors with these quick 'n' easy weeknight dinners you've been loving on Pinterest.
FREE eCOOKBOOKS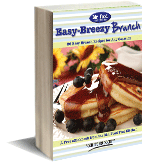 26 Easy Brunch Recipes for Any Occasion
Click Here