The Originators of Quick & Easy Cooking!
RECIPES & VIDEOS

Cookie bars are a wonderful way to bring your favorite dessert along anywhere you go! They're the perfect cure for those mid-afternoon cravings.

Hamburgers don't have to just come on a bun! Check out these creative ways to enjoy this warm weather favorite!

Your all-time favorite recipes are now in one easy location. Check out our most popular Pinterest recipes from dinner to dessert!
FREE eCOOKBOOKS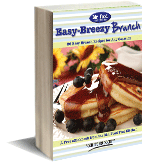 26 Easy Brunch Recipes for Any Occasion
Click Here