The Originators of Quick & Easy Cooking!
RECIPES & VIDEOS

We can't think of a better way to celebrate summer than with a few of our coolest and sweetest treats. Check out some of the desserts you absolutely have to try this summer.

Don't forget to bring along a contribution to the weekend barbecue! These backyard deli salads are always welcome at summer festivities.

Fire up that grill! These classic barbecue eats are just what you need to kick off your summer just right.
FREE eCOOKBOOKS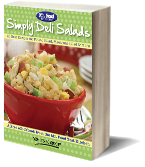 28 Best Recipes for Potato Salad, Macaroni Salad and More
Click Here