The Originators of Quick & Easy Cooking!

Comfort Food for the Soul: 40 of Our Best Stews and Easy Soup Recipes
Bonus: Get our newsletter & special offers for free. We will not share or sell your email address. View our Privacy Policy

The Cheese Lovers eCookbook: 34 Easy Recipes with Cheese
Free Easy Recipes with Cheese eCookbook from MrFood.com

The Cheese Lover's eCookbook: 34 Easy Recipes with Cheese
Can you make a case for being the biggest cheese lover in your house? Then have we got an eCookbook for you! Our latest free eBook is filled with 34 easy recipes with cheese so you can use your favorite ingredient in every meal of the day! Cooking with cheese has never been so much fun. From cheddar to Gouda to the standby mozzarella and much more, every meal with cheese is better than ordinary.

It's hard to think of a single recipe that wouldn't taste better with a little bit of cheese. Whether you're inviting over a few friends for a party or you're sitting down to nice, quiet family dinner, nothing screams "comfort food" like cheesy recipes. With so many types of cheese to choose from, you're not going to know what kind of meal with cheese to make first! When you've finished making your way through these cheese lover's eCookbook, you're going to want to start looking into opening up your very own all-cheese restaurant! You're going to take one look over at the warm, gooey, melted finished product and wonder why every meal of the day isn't prepared with a cheesy recipe. Whether you want just a little bit or a whole lot, this free eCookbook is a must-have for any cheese lover out there! The only thing better than eating foods with cheese is cooking with it.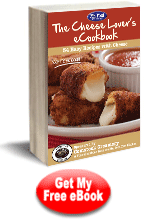 Download your free copy of The Cheese Lover's eCookbook: 34 Easy Recipes with Cheese today.
You just need to add a dash of cheese to create the best party food around! These easy cheesy recipes are perfect for entertaining a crowd. Let's face it, no one's going to turn down a plateful of Baked Cheese Drops (page 3) now are they? You'll just need to get one whiff of that melted cheese to waft across the room for the whole crowd to start begging you to start cooking with cheese more often! For those pizza lovers out there, we've some easy cheesy recipes for you too. Check out our recipe for Pepperoni Pie Squares (page 6) so you don't have to pay for overpriced delivery pizza again! Plus, we know you've been looking for the ultimate cheesy potato recipe, and boy, did we deliver with our recipe for Potato Plank Bruschetta (page 8)! A twist on a good party food classic, this comfort food recipe delivers on both style and taste.

There's always room for a bit of cheese on the side. From cheesy soups to other amazing side dish recipes with cheese, these easy recipes are made to please. From a nostalgic cafeteria food classic like Cheesy Hash Browns (page 12) to a holiday classic like Cheesy Herbed Mashed Potatoes (page 13), you can't go wrong with a cheesy potato recipe — it's a comfort food staple! Plus all of you cheesy casserole fans out there are going to go wild for our potluck-ready dishes like our Fresh Pepper and Cheddar Bake (page 17), perfect to pair with any kind of main dish entree. When the weather outside is looking a little gloomy, there's nothing like an easy soup recipe with cheese to cheer you up, especially when it involves a homemade classic like our Country Kitchen Broccoli Cheese Soup (page 18) or our Loaded "Baked" Potato Soup (page 19). Either recipe will warm you up from the inside out!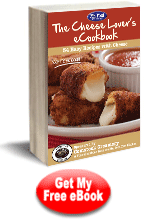 Download your free copy of The Cheese Lover's eCookbook: 34 Easy Recipes with Cheese today.

There's no easier way to shake up your favorite signature recipes than by adding a splash of cheese. Got a plate of pasta? You can make it instantly better by tossing in a handful of shredded cheese. A meal with cheese is better than a meal without it which is why we've created this ultimate cheese lover's handbook, filled with every recipe you need to satiate that never-ending cheese addiction. Plus, our Test Kitchen's philosophy of "Quick & Easy" cooking ensures that cooking with cheese has never been done simpler. Even the beginning cook can have an easy cheese dinner in no time! Each of these no-brainer meals with cheese also uses budget-friendly, easy-to-find ingredients so you're never inconvenienced when preparing a meal for your family.

The Mr. Food Test Kitchen's triple-tested method makes sure that each of these easy recipes with cheese is going to turn out a five-star-quality meal every single time for a top-notch dose of our signature "OOH IT'S SO GOOD!!"
Every morning should start off with a bit of cheese, wouldn't you agree? Picture it now: it's a Saturday morning, and you're just waking up to the smell of something tasty sizzling on the stovetop. When you head over to the kitchen, what do you find? Why it's a restaurant-quality Veggie Frittata (page 21), and as an added bonus, it's homemade! Why go out for brunch when you can have an excellent meal with cheese right in your own house. Every lazy Sunday deserves a brunch recipe that's finished in under 20 minutes which is why we know you're going to love this cheese breakfast recipe for Mini Ham and Cheese Quiches (page 22). And, if you're looking for a little extra kick in the morning to get you out the door and ready for the day ahead, you'll love the burst of flavor in our Spanish Cheese Tarts (page 24). Cooking with cheese isn't just for dinner anymore!
Alright, we've finally arrived at the best part of this free eCookbook: easy cheese dinner recipes. We don't know who's going to be begging for these meals more: the adults or the kids! We start off by putting a twist on an old classic with our Cheesy Stuffed Meatloaf (page 25). Oozing with plenty of cheddar cheese, this is one version of meatloaf that your kids will genuinely enjoy. We've also thrown in a few cheesy casserole recipes for weeks when you need some leftovers to carry you through the rest of the week. Our Company Special Mac 'n' Cheese (page 28) is perfect for that. Whether you're looking to feed a large group of people or you just need to leave a bit of extra, cooking with cheese has never been so convenient. And finally, if you're looking for a true Midwest classic, you're not going to go wrong with our authentic cheesy recipe for Chicago Deep Dish Pizza (page 35). You don't need to live in the Windy City in order to eat good!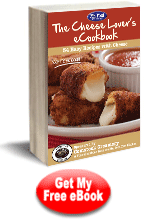 Download your free copy of The Cheese Lover's eCookbook: 34 Easy Recipes with Cheese today.
With your free copy of The Cheese Lover's eCookbook: 34 Easy Recipes with Cheese, you can also subscribe to our Mr. Food Quick & Easy Everyday Cooking newsletter to become part of a vibrant community of home cooking enthusiasts. In subscribing to the newsletter you will receive:

Six weekly emails with free recipes, tips, menu planning, videos and more
Chances to win cookbooks and other products from our giveaways and contests
Access to our free recipe collection full of thousands more free triple-tested recipes from the Mr. Food Test Kitchen
The opportunity to share ideas and help others in the cooking community

As a fan of the Mr. Food Test Kitchen's Quick & Easy cooking philosophy, I know you can see the value in this free ebook. Try out these easy cake recipes with the free The Cheese Lover's eCookbook: 34 Easy Recipes with Cheese. Once you subscribe to receive our newsletter, you'll see how much fun it is to be a part of the Mr. Food community! If you've ever searched for quick and easy recipes, fast dinner ideas, slow cooker recipes or anything in-between, let MrFood.com deliver triple-tested recipes straight from our Mr. Food Test Kitchen that are both easy to make and delicious to eat. Check out this free eBook and the MrFood.com site to draw tons of inspiration for your next holiday or meal!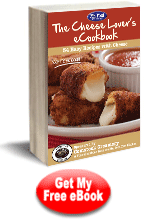 Download your free copy of The Cheese Lover's eCookbook: 34 Easy Recipes with Cheese today.

Report Inappropriate Comment
Are you sure you would like to report this comment? It will be flagged for our moderators to take action.
Thank you for taking the time to improve the content on our site.
.01 20 15.