The Originators of Quick & Easy Cooking!
5 Minute Meals: What Can I Cook in 5 Minutes?
5 minute recipes that are easy, quick, and delicious!

Updated August 31, 2023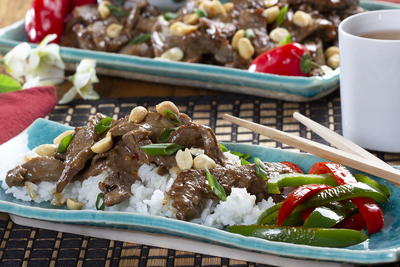 Sometimes, standing around in the kitchen and fussing over a lengthy recipe is the last thing you want to do. Whether you've got a busy day and no time to cook or are just feeling too lazy to make something fancier, these 5 minute meals are just what you need to fill your belly in no time at all.

We've gathered up our best 5 minute recipes to save you time in the kitchen while still giving you something delicious to eat. Whether you need a speedy breakfast, a no-fuss lunch, a lightning-quick dinner, a last-minute snack, or a spur-of-the-moment dessert, we've got something here for you to enjoy.

So the next time you think to yourself, "What can I cook in 5 minutes?", don't just stand there scratching your head. Make one of these easy, speedy recipes instead!

Want more fast and easy recipe ideas in your inbox? Subscribe to our newsletter!
Table of Contents
5 Minute Dinner Recipes
When you're pinched for time in the evening, don't panic! We have some 5 minute recipes for dinner that are ready in a jiffy but still packed with delicious flavor. You don't have to sacrifice great taste or good quality meals for the sake of speed when you've got 5 minute dinner recipes on hand!
5 Minute Recipes for Breakfast
Everyone is busy in the mornings, whether you're rushing off to school, heading to work, or hustling to the living room to catch your favorite program on TV. That's why simple, speedy 5 minute recipes for breakfast are so handy! You don't have to skip breakfast or settle for another granola bar when you have 5 minute meals this easy to choose from. 
5 Minute Recipes for Lunch
Lunch is an important meal, but sometimes you just don't feel like cooking in the middle of the day. When that happens, you need something super fast and easy to satisfy your appetite without taking up much of your time. With these 5 minute recipes for lunch, you'll get a full belly and plenty of time left over to enjoy your afternoon. 
5 Minute Recipes for Snacks
Snacks are technically a "meal," but who doesn't love a good, quick snack recipe? We certainly do! That's why we've added in some of our favorite 5 minute recipes for snacks. When you get the munchies and don't have anything pre-made on hand, you can just make one of these quick and simple recipes to satisfy that growling tummy and your taste buds, too. 
5 Minute Dessert Recipes
Ok, these aren't technically meals either--but they are 5 minute recipes you can make with hardly any effort! And that's what's important, right? When your sweet tooth kicks in and demands something sweet NOW, all you have to is whip up a fast and easy 5 minute dessert recipe to silence those cravings and enjoy something delicious. 
LATEST TV RECIPE & VIDEO
This easy yet elegant version of prime rib will rival anything you can find at the fanciest restaurant. Our Test Kitchen made sure that this one is low on work and high on good taste. Perfect for holiday entertaining or enjoying all year long.