The Originators of Quick & Easy Cooking!

Comfort Food for the Soul: 40 of Our Best Stews and Easy Soup Recipes
Bonus: Get our newsletter & special offers for free. We will not share or sell your email address. View our Privacy Policy

Down-Home Cookin: 24 Easy Southern Favorites
Free Easy Southern Recipes eCookbook from MrFood.com

Down-Home Cookin': 24 Easy Southern Favorites
We hope you're hungry because we've got some recipes from the South that you're not going to want to miss. We've got plenty of those country recipes we know you love with our latest free eCookbook, Down-Home Cookin': 24 Easy Southern Favorites. These easy Southern recipes range from easy catfish recipes to decadent desserts, just like Mom used to make. Get ready to make dinnertime the highlight of your day!

While there are so many different styles of recipes that everyone loves, there's perhaps nothing more beloved than some down-home Southern cooking. When you think of easy country recipes, you can practically smell the cornbread, fresh out of the oven, while sunshine streams in through the windows. The whole family gathers around the table and passes around heaping bowls of veggies, potluck-style, usually accompanied by a glass of cold milk or lemonade. No one's busy texting on their cell phones, and the activity isn't centered around what's on television: just Southern foods and good conversation. Those are the kinds of meals you want your kids to remember. We invite you to turn off the distractions for the night as you get back to basics with Southern cooking done right. It doesn't matter how stressed you are at work or if the weather refuses to cooperate, when you've got a classic country recipe in front of you, all of your worries will simply melt away. Interested in a video sneak peek of this free eCookbook. Click here to check it out!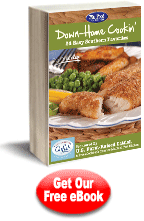 Download your free copy of Down-Home Cookin': 24 Easy Southern Favorites today.
That very first bite of a meal can really set the tone for the entire night. You better make sure it's a good one with these oh-so-tasty appetizer recipes. In fact, you may not even get to the main course! Not if you serve up a plate of our Catfish Cakes (page 1) anyway. Not only do they fit right into place at the dinner table, you can easily set them out for guests to enjoy as you wait for your country dinner to finish cooking. Another easy party appetizer you're going to love is our Good Ol' Southern Deviled Eggs (page 2). Using only five simple ingredients, these gems are simple to whip up if you're low on available prep time right before your guests start arriving - and much more impressive than throwing out a box of crackers! What collection of Southern recipes would be complete without this one for Down South Corn Bread (page 3)? Whether you're getting ready for the holidays or you're just looking for an easy starter recipe to serve to your family, this one will leave behind nothing but crumbs!

Make sure the chicken coop is locked and the tractor's shut off for the night; the dinner bell is ringing, and boy, are you going to love what we've got in store! These easy country recipes are hearty and full of flavor — just what you need after a long, hard day at work. For those cold or rainy days, you're going to be thankful to come home to a steamin' bowl of our All American Fish Chowder (page 6). With a mix of four different veggies paired with your catfish fillets, you can be sure you're getting all the nutrition you need. Add a sweet touch to your Southern cooking with a plateful of Good Ol' Honey Fried Chicken (page 9). This is an easy Southern dinner recipe the kids will love since it's both sweet and gooey. You're going to want to keep some extra napkins handy! To get that authentic Southern cooking flair for BBQ, you can't go wrong with our smoky recipe for Pulled Pork Sandwiches (page 10).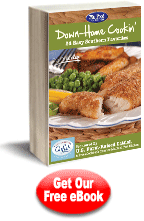 Download your free copy of Down-Home Cookin': 24 Easy Southern Favorites today.

You want to perfect that classic Southern cooking that Grandma had down pat, but you don't have the time or money to experiment with dozens of different formulas to find the right combination. Sound familiar? Our Test Kitchen does all of the experimenting for you so you don't have to worry about a thing the first time you decide to try one of our recipes. Our triple-tested guarantee ensures the best quality every single time. We adjust our recipes so that every single one can be cooked to perfection for country meals you'll eat right up. Plus, all of our recipes are made with easy-to-find ingredients so you're not running all around town to find some obscure and unnecessary spice. You'll already have most of these ingredients in your cupboard already!

Your parents and grandparents made some great memories for you when preparing some classic Southern dishes. Now it's time for you to pass on that tradition to your kids with easy Southern recipes they'll ask for again and again.
Complement your Southern cooking with some easy side dishes that are going to steal the show! Add a burst of fresh veggies to any meal with our recipe for Southern Broccoli Tomato Salad (page 15). With ingredients like broccoli, cheddar cheese, tomatoes, and bacon, this colorful dish belongs front and center in your table display. What Southern dinner would be complete without a hearty helping of Country Coleslaw (page 16)? Whether you're having catfish, chicken, beef, or pork, this easy side dish is so versatile; you can pair it with almost anything! For an easy five-ingredient addition to any meal, try out our easy country recipe for Hush Puppies (page 18). You may want to make an extra batch of these because these addictive poppable bites may not make it all the way around the table.
Last is certainly not least when it comes to classic Southern desserts. After a satisfying country dinner, it's time to move on out to the porch swing to enjoy the last few rays of sunshine with your favorite dessert by your side. You don't need to wait for anyone's birthday or a holiday to bake up our recipe for Old Fashioned Southern Chocolate Cake (page 20). Light 'n' fluffy but oh-so-delicious, this beauty may become one of your signature recipes with a decadent chocolate flavor you won't want to miss. We've taken a leaf out of Grandma's cookbook collection with our easy country recipe for Hummingbird Cake (page 22). With a bit of fruit and a dash of cinnamon, you can bake up a whole lot of yum! For a versatile dish that works great for both breakfast and dessert, check out our recipe for Peach Coffee Cake (page 24). Serve with a glass of refreshing iced tea for a Southern food classic your friends and family will absolutely love.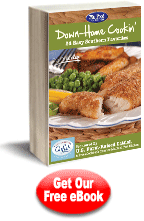 Download your free copy of Down-Home Cookin': 24 Easy Southern Favorites today.
With your free copy of Down-Home Cookin': 24 Easy Southern Favorites, you can also subscribe to our Mr. Food Test Kitchen Quick & Easy Everyday Cooking newsletter to become part of a vibrant community of home cooking enthusiasts. In subscribing to the newsletter you will receive:

Six weekly emails with free recipes, tips, menu planning, videos and more
Chances to win cookbooks and other products from our giveaways and contests
Access to our free recipe collection full of thousands more free triple-tested recipes from the Mr. Food Test Kitchen
The opportunity to share ideas and help others in the cooking community

As a fan of Mr. Food Test Kitchen's Quick & Easy cooking philosophy, I know you can see the value in this free ebook. Try out these easy cake recipes with the free Down-Home Cookin': 24 Easy Southern Favorites. Once you subscribe to receive our newsletter, you'll see how much fun it is to be a part of the Mr. Food Test Kitchen community! If you've ever searched for quick and easy recipes, fast dinner ideas, slow cooker recipes or anything in-between, let MrFood.com deliver triple-tested recipes straight from our Mr. Food Test Kitchen that are both easy to make and delicious to eat. Check out this free eBook and the MrFood.com site to draw tons of inspiration for your next holiday or meal!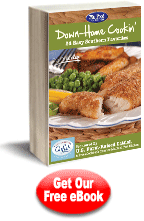 Download your free copy of Down-Home Cookin': 24 Easy Southern Favorites today.

Report Inappropriate Comment
Are you sure you would like to report this comment? It will be flagged for our moderators to take action.
Thank you for taking the time to improve the content on our site.
.01 01 14.
LATEST TV RECIPE & VIDEO
Our Hearty Chicken Corn Soup is going to warm up your kitchen and the hearts of everyone gathered around the kitchen table.