The Originators of Quick & Easy Cooking!
How to Build the Perfect Cheese Board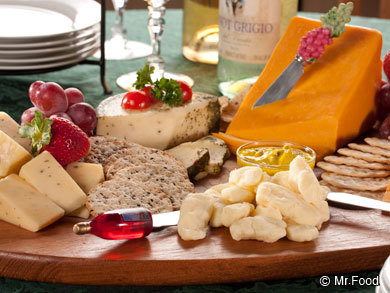 A cheese board is like an edible piece of art that's perfect for tasty entertaining. Our tips for how to build the perfect cheese board will surely add excitement to your next gathering.
What to Do
The Perfect Cheese Board


Serve 3 to 5 types of cheese in different styles, tastes and textures. More choices than that can be overwhelming. A good start would be a soft cheese like Brie, a firm cheese like Cheddar and a blue-veined cheese like Roquefort.

Build your cheese board around a theme, such as cheeses from a particular region or different milks such as from cows, sheep, and goats.

Garnish your cheese board with colorful, edible ingredients such as grapes, apples, tomatoes, celery, and dried berries.

Put out separate dishes with a variety of gourmet olives (Kalamata, Nicoise, Spanish), pickled vegetables (gherkins, artichoke hearts, peppers), lightly roasted nuts (walnuts, macadamias, almonds), and a selection of mustard varieties for dipping.

Offer a choice of different breads, crackers and biscuits in a choice of shapes and flavors.

When serving, remove the wrapping from cheeses but leave rinds on.

Provide a cheese knife for each cheese, to avoid mixing flavors. Before serving, bring cheese to room temperature for optimal flavor by removing them from the refrigerator for up to, but no more than, 2 hours prior to serving.

LATEST TV RECIPE & VIDEO
Made with our homemade blend of spices, this Cowboy Brisket is going to be a melt-in-your-mouth dinner favorite you can't get enough of.