The Originators of Quick & Easy Cooking!
Dynamite Dip Tips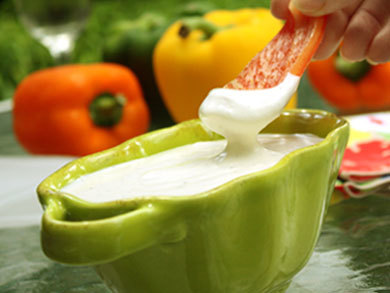 With our dynamite dip tips, you'll be "in the know" about how to serve and enjoy dips and spreads. These helpful hints and serving tips will make your entertaining easier and safer.
What to Do
I've got the scoop for you on dipping do's and don'ts, just in time for your July 4th party and all your other get-togethers:
Double-dipping?! It sure doesn't make you the "hit of the party." In fact, double-dipping is no longer just a matter of good manners – it's a food safety issue. That's right. Any time food goes into our mouths, it should never again touch food we're sharing with others.

When it comes to the choice of food to use as dippers for all types of dips, from the creamy ones to the salsas and everything in between, if the food we use isn't sturdy enough to hold the weight of the dip on its way to our mouth, it might fall apart and make a big mess. Food should be wide enough to hold the dip, but short enough to be eaten in one bite. For example: a chunk of green pepper is preferable to a long thin strip and a small oval cracker is a better choice than a long breadstick. For hot dips, a potato chip might become soggy and collapse into the bowl, so a better choice could be a sturdier cracker like one with raised edges, or tortilla chips, cup-shaped tortillas, or mini toasted French bread.

For cold dips, crispy raw veggies will hold up better than cooked ones. If you'd prefer, a quick blanching before dunking in ice water will also keep dip veggies crisp and colorful.

With a hot or cold dip, remember the 2-hour rule: Don't leave it out longer than that. And with our star-spangled Fourth-fest coming up, a good idea is to place our dip bowl in a larger bowl filled with ice to keep it chilled, especially if we're entertaining outdoors in hot weather.
With these dip tips, our dipping should be a foolproof "OOH IT'S SO GOOD!!®"

Mango Tango Black Bean Salsa is a dynamite dip that everybody will love!