The Originators of Quick & Easy Cooking!

Watermelon: Enjoy It All Year Long - 30 Easy Watermelon Recipes from Mr. Food Free eCookbook
Bonus: Get our newsletter & special offers for free. We will not share or sell your email address. View our Privacy Policy

How to Use Your Slow Cooker: Tips & Tricks for Your Best Meals Yet
If cooking in your slow cooker seems boring, then you haven't checked out our secrets for making perfect slow cooker recipes every time. In How to Use Your Slow Cooker: Tips & Tricks for Your Best Meals Yet, you'll learn everything you need to become a slow cookin' pro! Learn how to avoid soggy toppings, ensure meat cooks evenly and thoroughly, and more with these must-have tips. Have you ever wanted to know the best way to clean your slow cooker? We've got the scoop on that, too.
And if you're looking for slow cooker recipes, we've got plenty of 'em! Check out our collection of 11 Easy Slow Cooker Recipes You Must Try, plus even more of our favorite slow cooker recipes.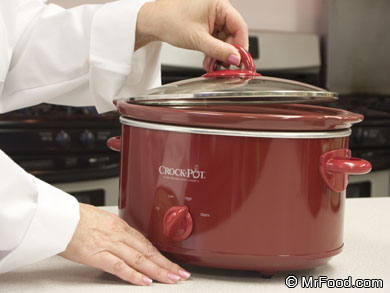 Tips 'n' Techniques
Follow these important guidelines to ensure slow-cookin' success with your recipes:
High vs. Low: Remember that 1 hour on HIGH setting is equivalent to 2 hours on LOW setting. An advantage to cooking on LOW setting is that recipes can cook a little longer than the recipe states without the risk of the food being overdone.

Layer in Order: Always layer ingredients in the order given in the recipe. There's no need to stir the ingredients unless the recipe specifies.

Trim the Fat: Trim excess fats from meats. You can also brown meat in a skillet or broiler to remove fat. Just be sure to drain the fat before adding the meat to the cooker.

No Extra Liquid: Pour liquids over meats, and use only the liquids specified in the recipe when cooking roasts and stews. Extra juices cook out of the ingredients, and less evaporation occurs than in traditional cooking methods.

Make Gravy: Cuts of meat that have a higher fat content can be cooked without additional liquid when set on LOW, though you may prefer to add a little liquid for making gravy.

Get it Thick: You can thicken juices and make gravy by removing the lid and cooking on HIGH setting for the last 20 to 30 minutes of cooking time.

No Peeking: Don't be tempted to take a peek inside the cooker before cooking time is complete. It takes 20 to 30 minutes for the heat to build back up to the previous temperature after removing the lid.

Food Facts
Slow cookers don't brown food, so sear meats or poultry in a skillet for extra flavor and added eye-appeal, as well as to cook off excess fat before adding to the cooker.

Cut whole chickens and large pieces of meat in half before placing in the slow cooker to make sure they cook thoroughly.

Veggies generally cook slower than meats. Place them under the meat in the slow cooker unless otherwise directed; direct contact is needed with the bottom and sides of the cooker.

Dairy and seafood tend to break down when cooked for an extended time. Unless otherwise directed, add milk, cream, and sour cream during the last 15 minutes of cooking and put in seafood within the last hour.

Fresh herbs and spices are better than the dried variety for extended slow-cookin' times because they take longer to release their flavors. When using dried herbs, opt for whole rather than crushed or ground.

Pasta retains the best texture when cooked separately, according to package directions. Add cooked pasta to the slow cooker during the last 30 minutes of cooking unless otherwise directed.

Long-grain converted rice is best in recipes that call for cooking rice in a slow cooker.

Soak dried beans before adding them to the slow cooker, and add sugar and acid only after the beans have cooked until tender. Dried beans take longer to tenderize if combined with sugar and acid before softening.
Test Kitchen Tidbits
New slow cookers tend to cook at higher temperatures than older models. If you're using a new model, check for doneness at the lower end of the time range. If your cooker tends to boil contents, check for doneness a little early.

Some slow cookers have hot spots – where one side cooks hotter than the other. If you experience this with your cooker, rotate the insert halfway through the cooking time. This technique also allows for even browning of cobblers and crusts.

Avoid soggy toppings, caused by condensation that collects on the slow-cooker lid dripping into the pot, by tilting the lid away from the food when removing it.

Stews and casseroles cooked in the slow cooker tend to be forgiving in how long you cook them, so if you run a little late getting home, you're probably safe. Foods with dairy products and seafood are not good candidates for cooking longer than suggested.
Be Slow 'n' Safe
Fill your slow cooker at least half-full but no more than two-thirds full. This helps keep the temperature of the food even.

Always cook raw meat and poultry dishes on HIGH setting for the first hour to speed up the time it takes to get to a safe temperature. Then you can reduce the heat to the LOW setting for the duration of the cooking time, if you'd like.

You can forgo the HIGH setting for the first hour if the recipe calls for browning the meat first; precooking jump-starts the initial temperature of ingredients.

Defrost any frozen foods before cooking a dish that includes meat, poultry, or seafood. This makes sure that the contents of the crock reach a safe temperature quickly.
Easy, Breezy Cleanup
Let the slow cooker insert cool completely before washing it. Running cold water over a hot insert may cause it to crack.

Cleanup just got easier with new clear heavy-duty plastic liners that fit into 3- to 6-1/2-quart oval and round slow cookers. Just insert a liner inside the slow cooker before adding your ingredients. When cooking is complete, serve your meal directly from the cooker. Once the cooker has cooled (and the food is all gone or you've spooned it up for leftovers), simply toss the plastic liner...along with all the mess!

If you're not using liners, before each use, be sure to coat the inside of the cooker with cooking spray for easier cleanup.

Never immerse a slow cooker in water! Unplug it then wipe it clean with a cloth.

Report Inappropriate Comment
Are you sure you would like to report this comment? It will be flagged for our moderators to take action.
Thank you for taking the time to improve the content on our site.
.05 01 15.
LATEST TV RECIPE & VIDEO
Potato pancakes are a symbolic and scrumptious treat commonly made for Hanukkah. Not only are they super crispy and really tasty, but thanks to the pre-shredded potatoes you can find at your favorite supermarket, these Simple Shredded Potato Pancakes are, well, simple to make!