The Originators of Quick & Easy Cooking!
Fast & Fun Cupcakes: 18 Best Cupcake Recipes
Free Best Cupcake Recipes eCookbook from MrFood.com

Fast & Fun Cupcakes: 18 Best Cupcake Recipes
Ready for a treat that will have your guests in the mood to celebrate? Whether it's a holiday or a Tuesday, there is never a bad time for great cupcakes. This eCookbook, Fast & Fun Cupcakes: 18 Best Cupcake Recipes, featuring some of our best cupcake recipes, will have you looking for excuses to bake up yet another batch. From elegant selections to kid-friendly favorites, these easy cupcake recipes are a guaranteed hit at any get-together.

The trickiest part about choosing the best cupcake recipes is deciding on the flavor. With so many to choose from, it's hard to decide whether to go with a classic chocolate cupcake or a sunny lemon flavor. One great thing about this eBook? You're going to be coming back to it again and again to try out each and every flavor! Plus, think of how much fun these are going to be to decorate. Whether you're bringing a batch for a themed holiday party or want a little extra color with a healthy dose of sprinkles, there's always some new, creative way to cook up a batch of cupcakes. Check out a sneak peek of all of the wonderful varieties of easy cupcake recipes you'll find in this collection. Plus, for frosting ideas, check out our collection of Homemade Frosting Recipes: 14 Frosting Recipes for Cakes, Cupcakes, and More.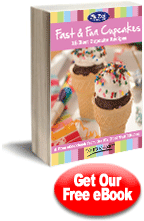 Download your free copy of Fast & Fun Cupcakes: 18 Best Cupcake Recipes today.
Who's going to complain when you bring in a fresh-from-the-oven batch of yummy white cupcakes? These traditional favorites are some of best cupcake recipes for picky eaters. Our recipe for Classic Vanila Cupcakes (page 1) is the perfect stand-by choice for your next birthday party. There are plenty of ways for everyone to fancy them up: add some nuts or sprinkles, use colorful frosting, add a small piece of fruit. You decide! There's no limit to how much fun you can have with these. For a gourmet cupcake recipe, you'll love our Almond-Kissed Cupcakes (page 2). With just a subtle hint of decoration, this is one of the best cupcake recipes for a bridal shower or other formal gathering.
It doesn't matter who you ask, if there's one easy cupcake recipe you need to have, it's got to involve a moist chocolate cupcake. All of you chocolate lovers out there are going to go wild for some of our favorite sweet treats. Indulge in some of your favorite candy-like fantasies with our recipe for Peanut Butter Chocolate Cupcakes (page 4). The peanut butter frosting gives this dessert a melt-in-your-mouth taste you won't be able to resist. If you're needing a recipe that will get the crowd hooked every single time, you'll want to check out our Moist Chocolate Cupcakes (page 6). Taking a leaf out of German baking, we bet you won't be able to eat just one!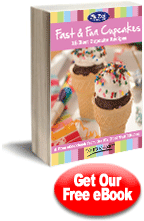 Download your free copy of Fast & Fun Cupcakes: 18 Best Cupcake Recipes today.

With so many different types of easy dessert recipes to choose from, how are you ever supposed to choose? These fun cupcakes are such a super option because there are so many different ways you can change 'em up! Plus, they're so easy to make that you're going to be looking for excuses to make yet another batch. Whether it's Teacher Appreciation Day or a co-worker's birthday, there are always plenty of occasions that call for some great cupcakes. You won't even have to worry about baking up something you've never tried before. Because our Test Kitchen triple-tested each of these recipes, you know these are easy cupcake recipes you can trust.

All of our easy cupcake recipes are made with you in mind. Using simple ingredients found at your local grocery store, you're never going to have trouble finding just what you need for all of your cupcake needs.
We've got some extra fun cupcakes we know you're going to love with these recipes for filled and stuffed cupcakes. Why restrict the frosting to the top of the cupcake it can make for a fun-filled center? You'll be brought right back to your childhood with our recipe for Twinkie Cupcakes (page 7). Give these easy cupcakes a try anytime you're looking for a healthy burst of nostalgia. For something a little more fantastical, you're going to love our recipe for Magical Stuffed Cupcakes (page 8). WIth sprinkles, whipped cream (and don't forget the cherry!), this easy cupcake recipe defines what a dream cupcake should be.
We're looking to add a little sunshine into your day with easy lemon cupcake recipes, perfect for a backyard bash. Lemon cupcakes are a great way to incorporate a lighter touch to your dessert platter, and they're even sweet enough to sneak in during breakfast. Enjoy your favorite lemon-and-lime combo with our Citrus Zest Cupcakes (page 10). Just like a cool soda pop on a warm summer day, this easy cupcake recipe is a refreshing addition to your day. If you're needing something extra simple, our Lemon Sunshine Cupcakes (page 11) is one of the best cupcake recipes around! Using powdered sugar instead of frosting, this is a fantastic way to make your favorite cupcake recipes a little bit lighter.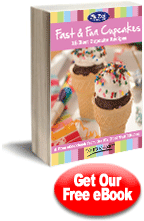 Download your free copy of Fast & Fun Cupcakes: 18 Best Cupcake Recipes today.
Strawberry cupcake recipes are a popular choice when it comes to specialty cupcakes. When you use such a well-loved fruit, it's hard to go wrong. These easy cupcakes are worthy of any cupcake cafe. Just pour yourself a glass of milk, and savor in your mad baking skills. Our Strawberry Patch Cupcakes (page 13) are perfect for various "pink" events from Valentine's Day to charity drives. Garnish each one with a strawberry slice for a cupcake your friends will rave about! For ladies' night, we've got a special recipe just for you: Strawberry Margarita Cupcakes (page 15).
These easy cupcake recipes are the perfect way to show off your creative side. Dessert is not the time to hold anything back — unleash your inner food artist, and feast on some gourmet treats! Start off with some cool cupcakes that incorporate one of your favorite cookie treats with these Cookies and Cream Cupcakes (page 16). These look just like regular white cupcakes from the outside, making them the perfect surprise treat. If you're looking for a kid-friendly cupcake recipe, you'll love our Ice Cream Cone Cupcakes (page 18). The cone makes these cool cupcakes easy to hold, and the design is just too adorable to deny. You'll surely be a hit if you bake up one of these simple cupcake recipes!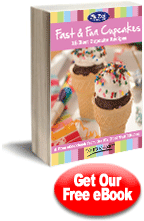 Download your free copy of Fast & Fun Cupcakes: 18 Best Cupcake Recipes today.
With your free copy of Fast & Fun Cupcakes: 18 Best Cupcake Recipes, you can also subscribe to our Mr. Food Quick & Easy Everyday Cooking newsletter to become part of a vibrant community of home cooking enthusiasts. In subscribing to the newsletter you will receive:

Six weekly emails with free recipes, tips, menu planning, videos and more
Chances to win cookbooks and other products from our giveaways and contests
Access to our free recipe collection full of thousands more free triple-tested recipes from the Mr. Food Test Kitchen
The opportunity to share ideas and help others in the cooking community

As a fan of Mr. Food's Quick & Easy cooking philosophy, I know you can see the value in this free ebook. Try out these easy cake recipes with the free Fast & Fun Cupcakes: 18 Best Cupcake Recipes. Once you subscribe to receive our newsletter, you'll see how much fun it is to be a part of the Mr. Food community! If you've ever searched for quick and easy recipes, fast dinner ideas, slow cooker recipes or anything in-between, let MrFood.com deliver triple-tested recipes straight from our Mr. Food Test Kitchen that are both easy to make and delicious to eat. Check out this free eBook and the MrFood.com site to draw tons of inspiration for your next holiday or meal!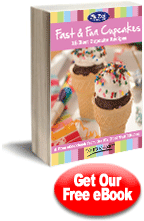 Download your free copy of Fast & Fun Cupcakes: 18 Best Cupcake Recipes today.

Report Inappropriate Comment
Are you sure you would like to report this comment? It will be flagged for our moderators to take action.
Thank you for taking the time to improve the content on our site.
.07 11 16.