The Originators of Quick & Easy Cooking!

Comfort Food for the Soul: 40 of Our Best Stews and Easy Soup Recipes
Bonus: Get our newsletter & special offers for free. We will not share or sell your email address. View our Privacy Policy

ABC's of Back-to-School: 26 Kid-Friendly Recipes from Mr. Food Free eCookbook
The Mr. Food Test Kitchen Team is here to make the busy back-to-school time easier with our very best kid-approved recipes for breakfasts, snacks, weeknight dinners, and desserts. The ABC's of Back-to-School: 26 Kid-Friendly Recipes from Mr. Food Free eCookbook features tasty breakfast recipes, healthy after-school snacks, fast family dinner options and extra-fun treats. Our kid-friendly recipes are easy as A, B, C — read along for great meal ideas that are sure to make the grade!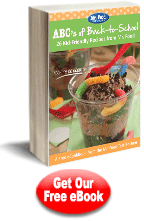 Click here to download the ABC's of Back-to-School: 26 Kid-Friendly Recipes from Mr. Food free eCookbook now!


Between school functions, soccer practice, and dance recitals, the back-to-school season is a very busy time of year. Sometimes the hardest part is adjusting to the hectic pace after a long, relaxing summer. That's where our ABC's of Back-to-School free eCookbook can help your family out this fall — we've got penty of grab 'n' go breakfast recipes, simple snack solutions, time-saving dinner ideas, and yummy desserts that can double as classroom treats! Best of all, these recipes are all kid-approved so you know your gang'll love'em.

ABC's of Back-to-School features healthful options they'll love, like our Oatmeal Bars and Yogurt Smoothie; easy and always-popular dinner ideas like Beefy Taco Bake and Buttermilk Chicken Nuggets; and we've even got some extra-fun treats to make with the kids, like Dirt Cups and Itsy Bitsy Pizza Bagels! Our favorite part about this eCookbook is the way we wrote it for you: One recipe for each letter of the alphabet! So now you can enjoy reading the book with your kids, and you can let them choose their favorite recipes, all sure to be filled with lots of …"OOH IT'S SO GOOD!!®"

Included in this 31-page eCookbook:
Morning Pizza — There are different kinds of pizzas available at our supermarkets and take-out restaurants. Here's another variation: breakfast pizza. It's covered with fluffy scrambled eggs and crispy bacon and smothered in melted cheese. Slice and go! (Page 5)

Yogurt Smoothie — This Yogurt Smoothie is a drink that has it all! It looks super, the taste is even better, and it's nutritious. The best part is that it's so yummy, no one will ever guess how nutritious it is! (Page 25)

Apple Pie Parfaits — Kid-friendly recipes don't get much better than our dessert-for-breakfast Apple Pie Parfaits. This all-American classic is a hit with kids and adults alike, so make sure you save some for yourself! (Page 1)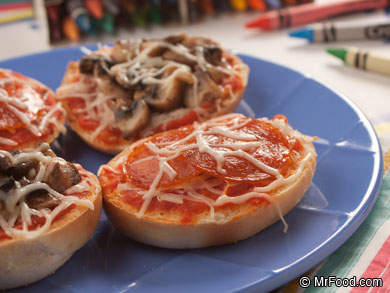 Oatmeal Bars — Melt-in-your-mouth Oatmeal Bars are a healthy cookie option that tastes so good, no one will even realize how wholesome and nutritious they are! (Page 15)

Itsy Bitsy Pizza Bagels — Your kids will be in their glory when you tell them they're going to make their own individual pizzas. Ask them which is more fun -- making them or eating them! (Page 16)

Chicken Quesadilla — Quesadillas are one of our favorite kid-friendly recipes because they're just so gosh-darn versatile! Whether you're packing up a picnic or just want a snack to munch on, these tortilla munchies sure hit the spot. (Page 17)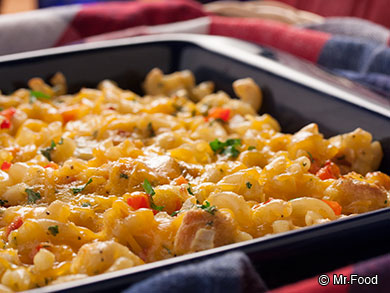 Yankee Doodle Macaroni Casserole — When Yankee Doodle went to town, maybe he was looking for a hot bubbly casserole brimming with cheese and macaroni, just like this one! (Page 3)

Hot Dog Kebabs — Not your usual kebabs, these Hot Dog Kebabs are fun and colorful, and they taste great, too! You'll love the flavor-packed sauce over bite-sized pieces of hot dogs, bell peppers, corn and onions for a sure-fire hit with the kids and everybody! (Page 11)

Beefy Taco Bake — If you're looking to host your own Mexican fiesta, then our Beefy Taco Bake is just what you've been looking to find. With a blend of down-home goodness and an array of Mexican-style flavors, you and the kids will want to make this one every night! (Page 20)
Dirt Cups — It's back-to-school time, so why not have a little fun with the kids when they get home? They'll really "dig" making these. (Page 7)

Popcorn Lollipops — Popcorn is a whole grain, making it a good choice when reaching for a snack. Popcorn Lollipops are a meet-in-the-middle treat that includes a few indulgences to satisfy our cravings without going overboard! (Page 12)

Sundae Surprise Cups — The next time the kids ask for more ice cream, tell 'em you've got one of your favorite kid-friendly recipes at home. This frozen treat beats waiting in line at the local ice cream shop but tastes just as good. (Page 9)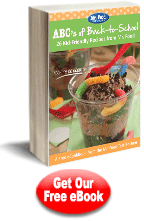 Click here to download the ABC's of Back-to-School: 26 Kid-Friendly Recipes from Mr. Food free eCookbook now!

With your free copy of ABC's of Back-to-School: 26 Kid-Friendly Recipes from Mr. Food, you can also subscribe to our Mr. Food Test Kitchen Quick & Easy Everyday Cooking newsletter to become part of a vibrant community of home cooking enthusiasts. In subscribing to the newsletter you will receive:

Six weekly emails with free recipes, tips, menu planning, videos and more
Chances to win cookbooks and other products from our giveaways and contests
Access to our free recipe collection full of thousands more free triple-tested recipes from the Mr. Food Test Kitchen
The opportunity to share ideas and help others in the cooking community

As a fan of the Mr. Food Test Kitchen's Quick & Easy cooking philosophy, I know you can see the value in this free eBook. Try out these can't-miss potluck recipes with the free ABC's of Back-to-School: 26 Kid-Friendly Recipes from Mr. Food. Once you subscribe to receive our newsletter, you'll see how much fun it is to be a part of the Mr. Food Test Kitchen community! If you've ever searched for quick and easy recipes, fast dinner ideas, slow cooker recipes or anything in-between, let MrFood.com deliver triple-tested recipes straight from our Mr. Food Test Kitchen that are both easy to make and delicious to eat. Check out this free eBook and the MrFood.com site to draw tons of inspiration for your next holiday or meal!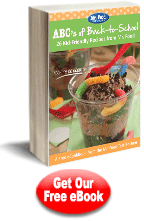 Click here to download the ABC's of Back-to-School: 26 Kid-Friendly Recipes from Mr. Food free eCookbook now!

For help downloading this or any of our other free eCookbooks, please see our guide on how to download eCookbooks.