The Originators of Quick & Easy Cooking!
How To Make Eggnog
Happy Holidays! Add a little more holiday cheer to your party by giving your guests something they'll all love to sip on - eggnog! Instead of buying the one from the store, why not make your own? It's so easy to do! And that way, you can make a couple of batches - one for those who like a little "spirit" in their eggnog, and one for those who prefer a non-alcoholic version. Now everyone can enjoy this holiday favorite!

What is eggnog? Eggnog is a drink, typically consumed during the holidays, that is made with milk, cream, sugar, and beaten eggs. Many eggnog recipes also include alcohol, such as brandy, bourbon, or rum.

Check out our video and tips on how to make eggnog. Once you learn how easy it is, you'll be sayin', "OOH, IT'S SO GOOD!!®" in no time!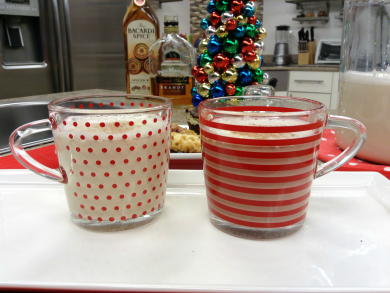 How to Make Eggnog
In a saucepan over low heat, combine milk, whole cloves, and ground cinnamon. The nice thing about cloves and cinnamon is that they've got a ton of flavor! If you'd like, you can add in cinnamon sticks for an extra punch.
Add some vanilla extract and bring to a simmer. You don't want it to boil!
While the milk mixture simmers, beat together some egg yolks with a cup and a half of sugar. Whisk it all together till it gets fluffy and light.
Once the milk mixture is warmed up, turn the heat off. Very slowly, add the milk to the eggs, whisking together as you go. Be very careful - you don't wanna cook the eggs! The consistency should be silky smooth.
Pour the entire mixture back into the saucepan. Let it simmer for about five minutes to allow it to thicken up.
Remove from the heat and strain. Stir in a little bit of half-and-half. If you wanna get super decadent, you can always go with heavy cream!
Chill until cold. Serve as-is for a family-friendly version. For an "adult-friendly" version, add in a little bit of rum or brandy. Spiced rum, dark rum, plain rum - any kind will work!
Now that you know how easy it is to to make eggnog, why not try your hand at making these other eggnog-inspired recipes? They're sure to be a holiday party hit!
LATEST TV RECIPE & VIDEO
Our Hearty Chicken Corn Soup is going to warm up your kitchen and the hearts of everyone gathered around the kitchen table.