The Originators of Quick & Easy Cooking!

Ground Beef Recipes: 25 Quick & Easy Recipes for Ground Beef
Bonus: Get our newsletter & special offers for free. We will not share or sell your email address. View our Privacy Policy

Ground Beef Recipes: 25 Quick & Easy Recipes for Ground Beef

Updated January 18, 2017
Free Easy Ground Beef Recipes eCookbook from MrFood.com

Ground Beef Recipes: 25 Quick & Easy Recipes for Ground Beef
Running out of tasty dinner ideas for the family? Pick up some ground beef and get cookin'! These 25 Ground Beef Recipes are sure to become instant classics with recipes ranging from ground beef casserole recipes to healthy ground beef recipes and so much more! Take a peek in this free eCookbook to see all of the dinner menu ideas we have to offer. We're sure you'll see why we believe these recipes are full of that "OOH IT'S SO GOOD!!®"

Ground beef is a staple base ingredient that's guaranteed to be a crowd-pleaser for any entree. There are bound to be so many picky eaters in your family that you simply don't know how to please them all. If you decide to try one of our easy recipes with ground beef, we know you won't be disappointed! These quick ground beef dishes are great for any lifestyle, from our guilt-free, healthy ground beef recipes to our out-the-door, quick ground beef recipes. Our free eCookbook has over two dozen easy ground beef recipes made to please the entire family, young and old! Learn how to cook ground beef like a pro with these recipes made with our signature "Quick & Easy" cooking philosophy.


Download your free copy of Ground Beef Recipes: 25 Quick & Easy Recipes for Ground Beef today!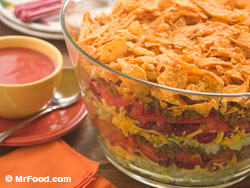 Looking for some easy recipes with ground beef that you won't have to feel guilty about? With these healthy ground beef dishes, you won't have to! You'd never believe that our Chunky Sloppy Joes (page 2) were actually good for you by taste alone; they're that hearty and flavorful! We're sure Mom would approve if she saw you making our Homestyle Meatloaf (page 4). We've mixed in a few veggies so you can get your daily helping without fussing! Perhaps best of all, we've included some great tips on How to Reduce Fat in Ground Beef (page 6), a useful set of tips for all of your ground beef meals! These easy recipes will help you satisfy your family while still keeping your figure trim.

If it's not macaroni and cheese or pizza, then your kids won't even touch it. Sound familiar? It can be tough to find a meal your kids are willing to eat, let alone consider. We're here to try to make things a little easier with some fun recipes for ground beef, sure to please even the most stubbon of your kids. Let your kids help you out in the kitchen with our snack-sized Beefy Pizza Muffins (page 7). Letting your kids help you make dinner keeps them out of trouble and makes them more likely to eat everything on their plate. What's not to love! We bet your kids would love to eat dessert every night, right? Well, they can with our Spaghetti Sundae (page 8)! Serve it in an ice cream sundae container to turn dinnertime into a treat they won't be able to refuse. Serve it with a side of our Cheesy Burger Fries (page 9), and your kids will be begging for you to make a ground beef recipe every night of the week!




Download your free copy of Ground Beef Recipes: 25 Quick & Easy Recipes for Ground Beef today!
While these ground beef recipes for dinner are certainly crowd-pleasers, they're also friendly on your wallet, utilizing ingredients you probably already have in your cupboard! It's such a bother having to drive all over town just to find some obscrure spice you're never going to use again. Who has time for all of that? All you want is something tasty that'll feed the whole family. You want to get the bang for your buck! We're right there with you! These "Quick & Easy" ground beef recipes show you that you don't need to be a professional chef in a high-end restaurant to produce quality meals that everyone will love. So save your money, and make it a night in; these home-cooked meals are sure to become instant classics!

Our Test Kitchen triple-tested each of the recipes in our free eCookbook to make sure you won't have any trouble when you recreate them at home. Just pick out your favorites and feel confident that they're going to turn out just the way you want them! From dinner entrees to side dishes and everything in between, we know you'll agree that these recipes are full of that "OOH IT'S SO GOOD!!®"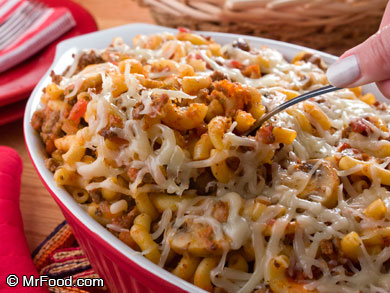 Nothing says "home cooking" like an easy ground beef casserole recipe! Casseroles are a great meal idea when you need to bring dinner to a friend's house which is why we're sure you're going to love our Baked Goulash (page 12). Filled with meat, cheese, pasta, and much more, this is one dish that's going to get recommended again and again. If you're worried that dinner has gotten a little bland, then we've got the perfect ground beef meal to break you out of your funk with our flavorful Enchilada Casserole (page 14). Rich without being overpowering, this is one dish you aren't going to let out of your sight! For something a little more fun, we recommend our Pizza Casserole (page 15). Using only five ingredients, you can go from prep to finish in no time at all!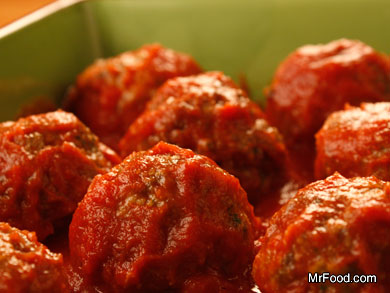 You're a busy person. You don't have the time to stand in the kitchen for hours on end, waiting for dinner to finally finish cooking. You have places to be and things to do. We hear you which is why we've crafted these tasty ground beef recipes especially for you! Start off with a helping of our Fifteen Minute Meatballs (page 17). You'll be amazed at how you can start these at the same time as your spaghetti, and you'll still finish right on time. You're sure to love our solution for Shortcut Bacon Cheeseburgers (page 18) which takes only 10 minutes from top to bottom. You'll have to download our free eCookbook to learn our secret there -- so simply, you'll wish you'd thought of it yourself! Our Easy Cottage Pie (page 21) is an English classic that your family will be simply delighted to try out. The best part: it's ready in under 30 minutes. Don't you just love quick ground beef recipes like that?




Download your free copy of Ground Beef Recipes: 25 Quick & Easy Recipes for Ground Beef today!
Easy Chili Recipes with Ground Beef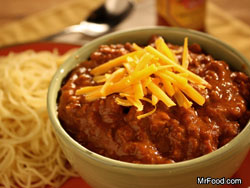 Nothing's going to warm up your insides more than a hearty, delicious bowl of chili. Whether you're looking for something with a fiesty kick or you want something traditional, these recipes are easy enough that you're bound to find just what you're looking for. For a regional favorite, we recommend you check out our Cincinnati Chili (page 22). Filled with cocoa, chili powder, ground beef, and even a secret ingredient, we've got the authentic Midwestern flavor you've been craving. For an all-in-one chili recipe that gets your veggies covered, you'll want to take a look at our Chunky Vegetable and Beef Chili (page 25) recipe. With vegetables like tomatoes, zucchini, and bell peppers, you're almost going to be too full to do anything else! Who doesn't love an edible bowl? With our Bread Bowl Chili (page 26), you've got a container and entree in-one!
With your free copy of Ground Beef Recipes: 25 Quick & Easy Recipes for Ground Beef, you can also subscribe to our Mr. Food Quick & Easy Everyday Cooking newsletter to become part of a vibrant community of home cooking enthusiasts. In subscribing to the newsletter you will receive:

Six weekly emails with free recipes, tips, menu planning, videos and more
Chances to win cookbooks and other products from our giveaways and contests
Access to our free recipe collection full of thousands more free triple-tested recipes from the Mr. Food Test Kitchen
The opportunity to share ideas and help others in the cooking community

As a fan of Mr. Food's Quick & Easy cooking philosophy, I know you can see the value in this free ebook. Try out these easy gound beef recipes with the free Ground Beef Recipes: 25 Quick & Easy Recipes for Ground Beef. Once you subscribe to receive our newsletter, you'll see how much fun it is to be a part of the Mr. Food community! If you've ever searched for quick and easy recipes, fast dinner ideas, slow cooker recipes or anything in-between, let MrFood.com deliver triple-tested recipes straight from our Mr. Food Test Kitchen that are both easy to make and delicious to eat. Check out this free eBook and the MrFood.com site to draw tons of inspiration for your next holiday or meal!





Download your free copy of Ground Beef Recipes: 25 Quick & Easy Recipes for Ground Beef today!

Report Inappropriate Comment
Are you sure you would like to report this comment? It will be flagged for our moderators to take action.
Thank you for taking the time to improve the content on our site.
.09 20 13.
LATEST TV RECIPE & VIDEO
Two of your favorite flavors come together in this delicious cake recipe. Our Peanut Butter Marshmallow Cake is topped with a fluffy layer of marshmallow creme and a creamy-smooth peanut butter frosting that's oh-so-delectable and simply irresistible!