The Originators of Quick & Easy Cooking!
Must-Make Muffins: 12 Easy Muffin Recipes
Free Easy Muffin Recipes eCookbook from MrFood.com

Must-Make Muffins: 12 Easy Muffin Recipes
If you're looking for the best muffins for breakfast, you've certainly come to the right place! Our latest eCookbook, Must-Make Muffins, gives you a dozen of your favorite easy muffin recipes from blueberry to chocolate chip and so much more. These free muffin recipes are sure to have you saying, "OOH IT'S SO GOOD!!®" So step right in, and see what our easy muffin recipes are all about.

You may not always have time in the morning to cook anything particularly filling for breakfast. With getting the kids ready for school, packing a lunch, and battling traffic, it can be easy to overlook the most important meal of the day. All you have time to focus on is getting in and out the door with everything you need for the day. Skipping breakfast, however, is no way to start the day, especially when we've got some of the best muffin recipes around. Make a batch the night before, and grab one (or a few!) in the morning. How simple is that? These easy muffins are perfect for a family on-the-go because you can munch on one while you're waiting for the light to turn green. So go ahead, take a peek at what we have in store. We know this is one cookbook you're going to keep coming back to.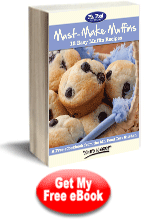 Download your free copy of Must-Make Muffins: 12 Easy Muffin Recipes today.
Is there a more classic breakfast food than blueberry muffins? We don't think so! If you're in a bit of a time crunch, you're going to love our quick muffin recipe for Shortcut Blueberry Muffins (page 1). When there's not enough time to make blueberry muffins from scratch, this is just the recipe you're looking for! If you're looking for a bit more of a challenge, you're going to love our recipe for Blueberry Patch Muffins (page 2). One bite of these breakfast muffins will have you thinking you've picked up a batch from the country marketplace. For an easy blueberry muffin recipe that's chock-ful of your favorite summer fruit, check out our homemade muffin recipe, simply entitled: Blueberry Muffins (page 3). This simple muffin recipe will have everyone smiling in the morning.

We aren't monkeying around when we tell you just how tasty our recipes for banana muffins are. Banana muffin recipes are wonderful for those of you who love eating banana bread but don't always have time to sit down to enjoy a slice. Banana muffins give you that same great taste on-the-go! We bet you can't guess the "surprise" part of our Surprise 'Nana Muffins (page 4). It involves a secret ingredient twist we think you're going to be adding to all of your easy muffin recipes! Speaking of easy, it really doesn't get any easier than our recipe for Easy Banana Muffins (page 5). Using only six ingredients and finished in under 30 minutes, you'd have enough time to make these in the morning before you head out the door. Who doesn't love the combination of peanut butter and banana? We sure love it, and we bet you're going to go wild too for our recipe for Peanut Butter-Banana Muffins (page 6). This is one muffin you'll even be able to get the kids to eat.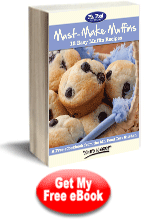 Download your free copy of Must-Make Muffins: 12 Easy Muffin Recipes today.

We know how difficult it can be to slow down and really enjoy your mornings. There are so many other things to think about that breakfast doesn't always rank high on your list of priorities, especially with a budget to consider. The Mr. Food Test Kitchen's "Quick & Easy" philosophy ensures that each of our recipes is created with you in mind. You can find all of our ingredients at your local grocery store. There's no need to stop at any specialty markets so you won't need to pull out your hair in frustration. Plus, you can feel good about the fact that none of these easy muffin recipe take very long to make, getting you out of the kitchen and on with the rest of your busy day. Whether you're looking to make muffins from scratch or are willing to take a few shortcuts, we know we've got plenty of breakfast muffins the whole family will love.

From blueberry to banana to chocolate to apple, each of these simple muffins will keep you energized and smilin' all day long. Take a look at what we have in store. We think you'll agree that these are some of the best muffin recipes around!
Alright, chocolate lovers. We know you had to sit through a few fruit muffins to get here, but we know it'll be worth the wait. We proudly present to you our best chocolate chip muffin recipes! We start this section off with a bang with a double chocolate muffin recipe that's larger than life. You may need two hands to eat our Colossal Chocolate Muffins (page 7). Make sure you eat one fresh from the oven for a melt-in-your-mouth flavor you won't soon forget. If these giant muffins are a little too large for you, we've got a tiny version as well with our Chocolate Chip Mini Muffins (page 8). These easy muffins are just the right size to toss into your kids' lunch bags on their way out the door for sweet treat later in the day. If you're having trouble deciding betwen our easy banana muffin recipes and our chocolate chip muffins, you can get the best of both worlds with our recipe for Chocolate Chip Banana Muffins (page 9). Why choose between them when you can get the best of both worlds?
For a breakfast muffin favorite you're sure to enjoy year-round, you'll need to check out our section of apple cinnamon muffins. For a healthy muffin recipe you can feel good about feeding to your family, you'll want to check out our recipe for Apple Walnut Bran Muffins (page 10). These muffins freeze particularly well so we recommend making a few batches to heat up on a rainy day. If you're looking for an easy muffin recipe that will have your house smelling irresisibly warm and comforting, you'll love our recipe for Fresh Apple Cinnamon Muffins (page 11). Pair one of these with your favorite cup of coffee in the morning to start your day off right! Plus, you can add a little crunch to your morning with our recipe for Apple Nut Muffins (page 12). These muffins make for a great edible gift for friends and loved ones. Arrange them in a fun, decorative basket, and watch their faces light up!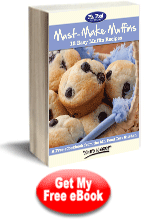 Download your free copy of Must-Make Muffins: 12 Easy Muffin Recipes today.
With your free copy of Must-Make Muffins: 12 Easy Muffin Recipes, you can also subscribe to our Mr. Food Quick & Easy Everyday Cooking newsletter to become part of a vibrant community of home cooking enthusiasts. In subscribing to the newsletter you will receive:

Six weekly emails with free recipes, tips, menu planning, videos and more
Chances to win cookbooks and other products from our giveaways and contests
Access to our free recipe collection full of thousands more free triple-tested recipes from the Mr. Food Test Kitchen
The opportunity to share ideas and help others in the cooking community

As a fan of Mr. Food's Quick & Easy cooking philosophy, I know you can see the value in this free ebook. Try out these easy cake recipes with the free Must-Make Muffins: 12 Easy Muffin Recipes. Once you subscribe to receive our newsletter, you'll see how much fun it is to be a part of the Mr. Food community! If you've ever searched for quick and easy recipes, fast dinner ideas, slow cooker recipes or anything in-between, let MrFood.com deliver triple-tested recipes straight from our Mr. Food Test Kitchen that are both easy to make and delicious to eat. Check out this free eBook and the MrFood.com site to draw tons of inspiration for your next holiday or meal!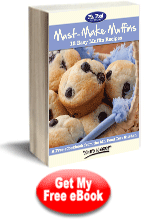 Download your free copy of Must-Make Muffins: 12 Easy Muffin Recipes today.
LATEST TV RECIPE & VIDEO
Made with our homemade blend of spices, this Cowboy Brisket is going to be a melt-in-your-mouth dinner favorite you can't get enough of.