The Originators of Quick & Easy Cooking!

Comfort Food for the Soul: 40 of Our Best Stews and Easy Soup Recipes
Bonus: Get our newsletter & special offers for free. We will not share or sell your email address. View our Privacy Policy

Welcome to Amish Country: 16 Easy Amish Recipes from Mr. Food
Free Amish Recipes eCookbook from MrFood.com

Welcome to Amish Country: 16 Easy Amish Recipes from Mr. Food
Get ready to break out your pots and pans because we're doing some good old-fashioned cooking. With this free eCookbook, Welcome to Amish Country: 16 Easy Amish Recipes from Mr. Food, you'll be living like the Amish people in no time! We're sending your our best cooking dishes so you can truly experience the Amish culture. This free eCookbook has a wagonful of Amish recipes that will make you feel as though you've stepped back in time where simple, homestyle cooking rules the roost. The Amish people haven't lost sight of those core family dinner values that result in food filled with that "OOH IT'S SO GOOD!!®"

There's nothing like Amish cooking to get the family excited for dinner time! To really get a sense of the simple Amish life, you've got to drive away from that fast food restaurant and head toward the kitchen! We've got recipes that will fill you right up, from heart-warming Amish casseroles to country style side dishes to sweet and filling desserts. Best of all, they all adhere to the Mr. Food philosophy of quick and easy cooking so you can get that unbeatable taste without taking up your entire day. These 16 simple recipes are perfect for any level of cooking expertise! So grab your oven mitt because you're cooking tonight!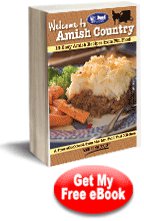 Download your free copy of Welcome to Amish Country: 16 Easy Amish Recipes from Mr. Food today.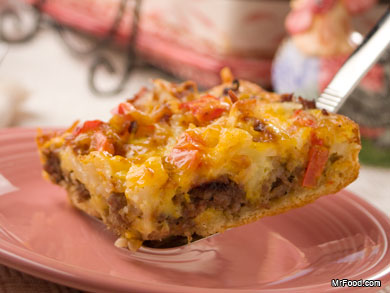 You'll be hootin' and hollerin' when you see what easy breakfast recipes we've cooked up for you! It's time for true Amish living with recipes that are sure to knock your socks off! If you're looking for a hearty, energizing start to the day, you won't go wrong with our favorite Amish breakfast casserole: Barn-Raising Breakfast (page 1). Packed to the brim with sausage, potatoes, cheese, bread, onions, and peppers, there's no way you're leaving the breakfast table any less than full and content! Plus, it's a great Amish recipe to use if you're looking to make breakfast for dinner. If you're searching for something a little sweeter, why not give our Fruit Filled Coffee Cake (page 2) recipe a try. Whip up a batch, and you're set to be eating well for the next week! Plus, it's perfect to lay out with a pot of coffee if you're having guests over.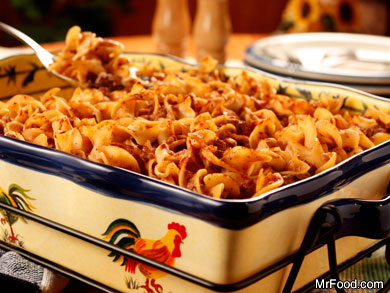 Amish family life is full of good and hearty home-cooked meals, and nothing says "home-cooked" like a classic casserole recipe! Amish communities love their casseroles, and we do too! That's why we're sharing with you one of our most popular recipes: the Amish Country Casserole (page 3). Using staple dinner ingredients like beef and noodles, this is one casserole dish that you'll make again and again. If you're looking for a little bit of comfort food that lives and breathes Amish life, then look no further than our favorite Hearty Amish Chicken Stew (page 4). Be warned: this isn't some simple soupy mess in a can! This has real chunks of chicken, pasta, and veggies, and the best part is that it's done in under an hour. How simple is that! We've got an Amish cookbook here that's full of all of those comforting recipes you've been wanting, so dive right in!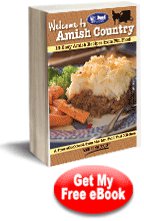 Download your free copy of Welcome to Amish Country: 16 Easy Amish Recipes from Mr. Food today.

It's time to get back to the basics. We know that you're tired when you come home from work, and sometimes, the last thing you want to be doing is spending a ton of time in the kitchen. You've got so many other responsibilities that it can be difficult to motivate yourself to cook, especially when you can just pop a frozen pizza in the oven. We realize this which is why we triple-test our recipes to make sure you're getting food that truly embodies our quick and easy philosophy. You're not going to be spending a ton of time in the kitchen, and you're not going to be running around to out-of-the-way grocery stores to find some obscure spice. You probably have most of these ingredients in your kitchen already, and with our free Welcome to Amish Country eCookbook, we give you the guidelines to putting them together to capture that signature "OOH IT'S SO GOOD!!®" taste you've come to love.

The most important part of any meal is making sure that by the end of it, you're completely full. These 16 easy Amish recipes do just that. They take classic ingredients to make hearty meals that you can come back to time and time again when you're looking for a homemade dish to feed your family. Plus, none of these recipes are going to break the bank. It's simply a win-win situation! You get the food you love at a price that you can afford. Dinnertime should be a relaxing event, and we know that these back-to-basics Amish recipes will help you make dinnertime the best part of the day.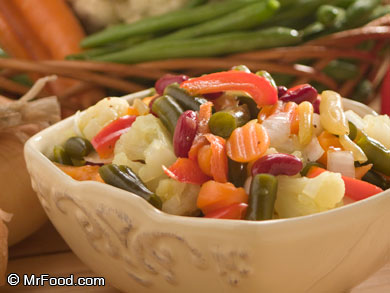 Don't forget about those vegetables! Even the typical Amish family knows that you've got to have a fun, well-balanced meal, and we've got some of their best recipes to prove it! Jazz up your dinner plate with the colorful Amish Chow Chow Relish (page 10), filled with cauliflower, carrots, beans, onions, and so much more! There are so many different flavors here that we bet you'll even be able to get your kids to gobble it all down! If you're looking to add a bit of a smokier flavor to your mealtime, look no further than our simple recipe for Pennsylvania Dutch Green Beans (page 11). With just a hint of bacon, you'll be able to win over even the pickiest of eaters. Plus, we've included one of our all-time favorite recipes with a smooth, buttery flavor that's sure to rejuvenate you after a long day: Dutch Noodles (page 9). Every recipe here is bound to be a hit!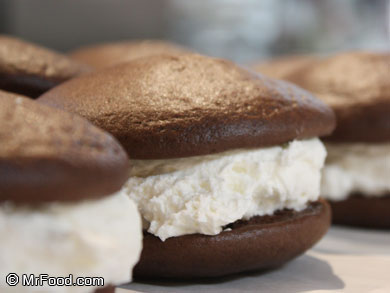 Nobody knows how to whip up a proper dessert like the Amish culture! These Amish cooking specialties are sure to help you perk up after a long, hard day at work. We'll start off with a guaranteed classic: Amish Applesauce Cake (page 14). This recipe has a sweet, old-fashioned tang that will make you feel like you've stepped right into the country. You know that we'd never forget about your Whoopie Pies (page 13) either! Perfect for a late night treat alongside a cold glass of milk, this is one specialty recipe that you're going to be cooking up on a regular basis. Do you have any leftover ice cream in your freezer? We know the best way you can use it! Bake up our mouth-watering Gooey Amish Caramel Pie (page 15), and pair it with a healthy scoop of ice cream, and you'll be living the Amish life in no time! You're sure to become the most popular house on the block!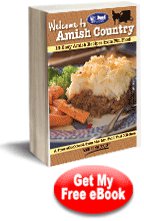 Download your free copy of Welcome to Amish Country: 16 Easy Amish Recipes from Mr. Food today.

With your free copy of Welcome to Amish Country: 16 Easy Amish Recipes from Mr. Food, you can also subscribe to our Mr. Food Quick & Easy Everyday Cooking newsletter to become part of a vibrant community of home cooking enthusiasts. In subscribing to the newsletter you will receive:

Six weekly emails with free recipes, tips, menu planning, videos and more
Chances to win cookbooks and other products from our giveaways and contests
Access to our free recipe collection full of thousands more free triple-tested recipes from the Mr. Food Test Kitchen
The opportunity to share ideas and help others in the cooking community

As a fan of Mr. Food's Quick & Easy cooking philosophy, I know you can see the value in this free ebook. Try out these traditional Amish recipes with the free Welcome to Amish Country: 16 Easy Amish Recipes from Mr. Food. Once you subscribe to receive our newsletter, you'll see how much fun it is to be a part of the Mr. Food community! If you've ever searched for quick and easy recipes, fast dinner ideas, slow cooker recipes or anything in-between, let MrFood.com deliver triple-tested recipes straight from our Mr. Food Test Kitchen that are both easy to make and delicious to eat. Check out this free eBook and the MrFood.com site to draw tons of inspiration for your next holiday or meal!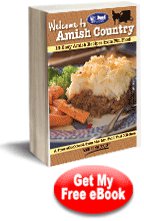 Download your free copy of Welcome to Amish Country: 16 Easy Amish Recipes from Mr. Food today.

Report Inappropriate Comment
Are you sure you would like to report this comment? It will be flagged for our moderators to take action.
Thank you for taking the time to improve the content on our site.
.06 04 15.
LATEST TV RECIPE & VIDEO
This easy yet elegant version of prime rib will rival anything you can find at the fanciest restaurant. Our Test Kitchen made sure that this one is low on work and high on good taste. Perfect for holiday entertaining or enjoying all year long.