The Originators of Quick & Easy Cooking!
City Hot Dog Guide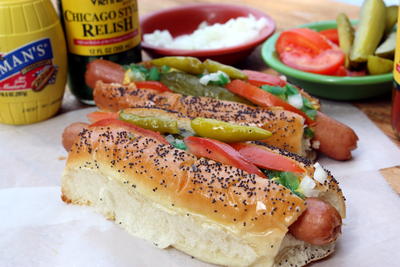 What's your favorite hot dog topper? Our hot dog guide features regional hot dog toppings from across the country. No matter which is your favorite top dog, we have tasty suggestions for a hot dog buffet bar that's perfect for entertaining.
What to Do

For your next party, place any or all the toppings listed for each city's specialty hot dog in individual serving dishes along with a decorative card listing instructions on how to "Build Your City Dog" for each city. Everyone will "go to town"!

CHICAGO DOGS
Arrange your hot dog exactly like they do in the Windy City. Place a steamed or grilled hot dog in a bun. Add:
Yellow Mustard: Squirt mustard directly on hot dog from one end to the other.
Relish: Add a generous amount of sweet relish.
Chopped Onions: Place onions on top of the hot dog.
Two Tomato Wedges: Place tomatoes along the crevice between the top of the bun and the hot dog.
Pickle Spear or Slice: Place pickle in the crevice between bottom of bun and the hot dog.
Two Sport (pickled) Peppers: Place two sport (pickled) peppers on top of the hot dog.
Celery Salt: Sprinkle a dash of celery salt over the hot dog.

NEW YORK HOT DOGS
A "Big Apple" favorite, hot dogs topped with Pushcart Onion Sauce are sold by vendors on the sidewalks of New York City:
Place a steamed or grilled hot dog in a bun.
Top with spicy brown mustard and Pushcart Onion Sauce made from onions stewed in tomato paste or sauce.

KANSAS CITY HOT DOGS
This hot dog celebrates the Reuben Sandwich and is a staple at Kauffman Stadium in Kansas City:
Place a steamed or grilled hot dog in a sesame seed bun.
Top with shredded Swiss Cheese (the heat of the hot dog melts it to perfection) and sauerkraut.

ATLANTA HOT DOGS
Drag your hot dog "through the garden" just like they do in Atlanta:
Place a steamed or grilled hot dog onto a top sliced bun.
Top it with fresh homemade coleslaw or store-bought.

DETROIT HOT DOGS
Detroit "Coney Island Hot Dogs" are named in honor of the Coney Island section of Brooklyn, New York, where hot dogs were originally popularized. These have a Michigan spin to them:
Place a steamed or grilled hot dog in a bun.
Smother with all-beef chili, chopped raw white onion, yellow mustard and shredded Cheddar cheese.
LATEST TV RECIPE & VIDEO
If you like meals that are bursting with flavor, then you're going to love this Indian-inspired dish. Our Easy Butter Chicken is going to excite your taste buds. Every bite is full of creamy, comforting goodness. This is a great change-of-pace chicken dinner!