The Originators of Quick & Easy Cooking!
How to Make Meatloaf: 20 of Our Best Meatloaf Recipes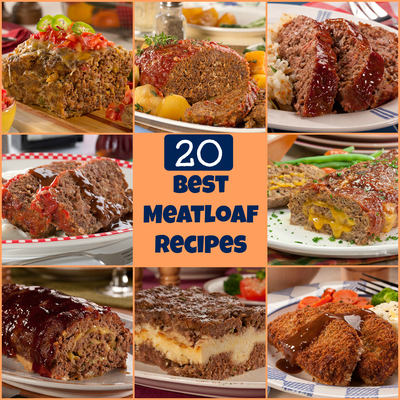 We can't think of a food that reminds us more of Mom's home cooking than a good, old-fashioned meatloaf recipe. Simple, classic, and easy to pair with any veggie or side dish you can think of, there's always room for another great meatloaf recipe in any home cookbook. Whether you're looking for the best meatloaf recipe, a turkey meatloaf recipe, or something a little more unique, you're going to love our latest collection, How to Make Meatloaf: 20 of Our Best Meatloaf Recipes.


Plus, don't forget to check out our bonus easy meatloaf recipes from at EverydayDiabeticRecipes.com! To check out more of the fantastic recipes on this site, be sure to sign up for the Everyday Diabetic Recipes FREE eNewsletter right here.
Table of Contents
Our Favorite Meatloaf Recipes
Diabetic-Friendly Meatloaf Recipes
LATEST TV RECIPE & VIDEO
These are a real Southern specialty; if you've never had the chance to try them, you'd better get ready to eat more than one! These Tangy Pickled Eggs are an old-fashioned Southern recipe that is now easy to make at home! Just a few easy steps and simple ingredients and you'll be making Tangy Pickled Eggs in no time!