The Originators of Quick & Easy Cooking!

Ground Beef Recipes: 25 Quick & Easy Recipes for Ground Beef
Bonus: Get our newsletter & special offers for free. We will not share or sell your email address. View our Privacy Policy
15 Kid-Friendly Ground Beef Recipes
You've probably cooked hundreds of ground beef recipes for your kids. After all, fast and easy ground beef recipes are perfectly suited to kid palates. But at a certain point, you throw up your hands and think, "What can I make with ground beef that I haven't already tried?!" Rest assured: the Editors at Mr. Food have collected 15 Kid-Friendly Ground Beef Recipes your kids will gobble up. Try these tasty recipes using ground beef! Plus, you'll find bonus burger recipes and newly added kid-friendly recipes with ground beef at the bottom!

One-Dish Ground Beef Recipes
Cheeseburger Bake - This easy, cheesy casserole bake just might replace the fast food drive-thru as the source of your kids' new favorite cheeseburgers!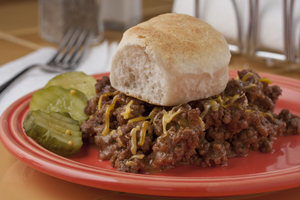 El Dorado Beef Casserole - Kids of all ages will go crazy for this Southwestern-style layered casserole. It has everybody's favorites: ground beef, tomato sauce, cheese and tortilla chips. Delicioso!
Beefed Up Broccoli Lasagna - We had to sneak some veggies on this list, but your kids will hardly notice! That's because this yummy lasagna has plenty of ground beef and cheese, too.
Meat Loaf and Potato Casserole - Here's a great meat-and-potatoes combination that's sure to be a hit with your gang!
Mexican Lasagna Rollups - It's Mexican food night at your house tonight! Rollups make a great dinner option for kids, handy and easy. It's surely a ground beef recipe you won't soon forget!
Ground Beef Recipes for Dinner: Sloppy Joes
Barbecue Joes - It's time for an update of the traditional Sloppy Joes, and here it is! This is an easy, budget-friendly meal that's sure to please.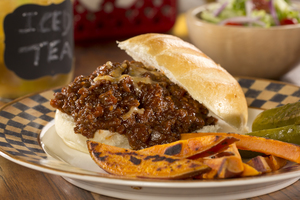 Chunky Sloppy Joes - One of our most "undercover" healthy ground beef recipes, we've added veggies to our protein. It's a great and tasty way for kids to get their vegetables in a messy Sloppy Joe!
Homestyle Sloppy Joes - Make your own Homestyle Sloppy Joes from scratch in the same time it would take to start with a store-bought Sloppy Joe mix!
Veggie Packed Sloppy Joes - Sloppy Joes are a quick, easy and economical dish that kids really love. Our healthier version that includes some garden veggies in the mix is a recipe that will earn a thumbs-up from parents, too!
Fun on a Bun - If you're looking for a quick and easy ground beef recipe that's sure to get your kids smiling, this is one you won't be able to pass up!
Fun to Eat, Kid-Friendly Recipes with Ground Beef
Cheesy Burger Fries - You've got a treat with this kid-friendly recipe with ground beef! Make sure to sneak a few for yourself becaues there won't be any leftovers!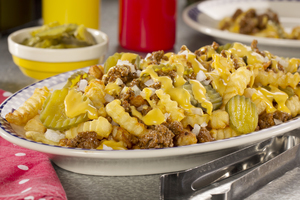 Beefy Pizza Muffins - We could all use some variety in our pizza routine! These handy, bite-sized muffins are sure to earn you major points with your kids.
Spaghetti Sundaes - Recipes using ground beef don't all have to be meat loaf or meatballs! Tell the kids they're having spaghetti sundaes for dinner and their reaction will be priceless.
Volcano Meatloaf - Meatloaf and mashed potatoes never caused such an eruption at the table until we came up with these mini meatloaves that are covered in creamy mashed potatoes and have a crater full of beefy gravy on top!
Pizza Fondue - Who says fondue has to be cheese or chocolate? This Pizza Fondue is an inside-out version of pizza that has everyone dipping crusty bread into a yummy sauce of pizza toppings. Who wouldn't love a ground beef recipe like that?!
Bonus Recipes with Ground Beef: Burgers
Hula Sliders - Get out your grass skirts and let the luau begin! These mini slider burgers make a fun "destination" dinner without ever leaving home. Aloha, easy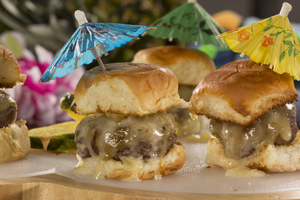 recipes for ground beef!
Round 'em Up Burgers - Round up the kids for these burgers! Simple ground beef recipes are crowd-pleasers and this one takes very little effort, plus you'll probably have the ingredients on hand.
Mr. Food's Fast Burgers - When your kids want fast-food burgers, you can make 'em at home in no time! These Fast Burgers have the same taste as fast-food burgers and you can make them exactly to order -- substitute your family's favorite toppings for ours.
Pretzel Burgers - Here's a twist on beating the "boring burger blues" with our yummy pretzel burgers. They bake up in our ovens with flavorful crunch that'll have everyone asking you how you did it!
Cheesy Burger Bites - These cheesy burgers make for fantastic mini-bites the next time you're looking for tiny food for tiny people!
Easy Cheeseburger Ring - If you need to make a great appetizer in a pinch, our Easy Cheeseburger Ring is calling your name. It's so simple, yet so tasty, so don't be surprised when it disappears in a flash!
Newly Added Recipes with Ground Beef
Easy Beefy Casserole: This homestyle Easy Beefy Casserole will satisfy the hungriest of appetites. Packed with beef, veggies and potatoes with a creamy cheese sauce, it literally shouts "stick-to-your-ribs" goodness.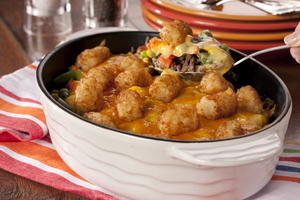 Fast Taco Pie: Fast Taco Pie is a quick and savory pie full of all the flavors kids of all ages love for dinner. If you've been looking for the ultimate ground beef skillet recipe, then you've come to the right place! With a spicy mix of Mexican flavors and good, hearty ingredients including lettuce, tomatoes, cheese, and ground beef, you're in for a dinner to remember with this one!
Cheeseburger Ramen Casserole: Here's a tasty way to transform those packages of budget-friendly ramen noodles into an extraordinary family favorite dish. Our Cheeseburger Ramen Casserole is the perfect weeknight dinner dish for everyone!
Mexican Twist: Now here's an easy ground beef recipe that's definitely not boring. Loaded with southwestern spice, veggies, and twisted pasta, our Mexican Twist is a mouth-full of "ooh, yeah!" And the best part is that it cooks up in a quick 25-minutes, making it an easy weeknight dinner.
For more easy ground beef recipes, check out our 5 favorite ground beef casseroles!