The Originators of Quick & Easy Cooking!
Comfort Food for the Soul: 40 of Our Best Stews and Easy Soup Recipes
Bonus: Get our newsletter & special offers for free. We will not share or sell your email address. View our Privacy Policy
Perfect Picnic Menu: 53 Make Ahead Picnic Recipes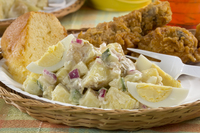 What makes the perfect picnic menu? Why, perfect make ahead picnic recipes, of course! Prepare and pack up these delicious appetizers, side salads, sandwiches, drinks, and desserts for any outdoor occasion. Our Perfect Picnic Menu: 53 Make Ahead Picnic Recipes is full of picnic ideas and recipes that you can easily take-along and enjoy al fresco!

Picnic Appetizers
The best appetizer recipes to bring to a picnic are those that you can easily make ahead, like dips, spreads, and finger foods. We've included both hot and cold picnic food recipes that are sure to be a hit!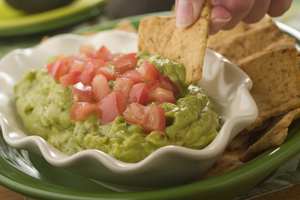 Fresh Avocado Dip - You can dip tortilla chips for a Mexican flair, or try dipping fresh-cut veggies for that fresh-from-the-garden taste. Our Fresh Avocado Dip is perfect for anytime-snacking.
Crispy Crunchy Pita Chips - Crispy Crunchy Pita Chips are the perfect picinic food recipe to bring-along with you. Use them to dip into your favorite picnic dip, or eat 'em all on their own.
Asian Deviled Eggs - This flavorful East meets West variation on traditional deviled eggs will excite their taste buds and win you extra raves for your Asian inspiration!
Texas Caviar - Hold on, Pardner! There're no fish eggs in our Texas Caviar. Texan's have a different idea of what most of us think of as caviar and one taste of this change of pace nibbler will surely have you hooked!
Black Bean Salsa - Turn a can of black beans into a fiesta of flavors by adding lot of fresh south-of-the-border ingredients to create our easy Black Bean Salsa.
Parmesan Spinach Dip - What a combo - this dip and almost anything! It goes really well with pita chips, toasted thin bagel slices, and fresh cut vegetables.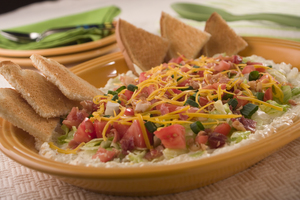 BLT Spread - This is a must-try picnic recipe! If you love a BLT sandwich then you're going to flip over our delicious creamy BLT Spread that looks as good as it tastes.
Hummus Pesto Dip - When hummus is combined with the garden-fresh taste of pesto, it's a combination that's sure to become your family's new favorite.It's great for dippin' into at a picnic.
Choosy Crab Dip - What are you gonna be saying about our Choosy Crab Dip? "Ooh, very classy! Ooh, very easy! Ooh, very Chesapeake tasty!"
Slam Dunk Chili Dip - The Harlem Globetrotters agreed that Mr. Food scored a win with this Slam Dunk Chili Dip! Whether you like it mild or hot, spice it up your way.

Bacon and Cheddar Deviled Eggs - The big taste of bacon and robust flavor of Cheddar cheese add a zesty flair to these company-ready Bacon and Cheddar Deviled Eggs.
Picnic Salads
Some of our favorite recipes for a summer picnic are deli salads! Popular picnic recipes like macaroni salad, potato salad, and coleslaw are always party favorites, plus they're easy to make the night before and pack in a cooler for your picnic.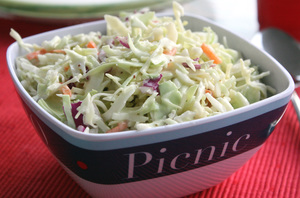 Captain's Coleslaw - Sure, we can always pick up ready-made coleslaw at the market, but when it's this easy to make, why not do it ourselves? It'll be smooth sailing in the kitchen when you throw together our tasty Captain's Coleslaw.
Chicken Macaroni Salad - Chicken Macaroni Salad is a bit of a twist on an old favorite, and the chicken makes it substantial enough to be a complete meal. In fact, it is!
"Blue" Ribbon Potato Salad - Blue cheese potato salad?! Sure! With always-good Wisconsin dairy products, you could make almost anything into a dairy dish. And this one is both rich and mellow ... a real picnic hero-maker!
Easy Cobb Salad - Most people probably don't know that Cobb Salad was created at the Brown Derby Restaurant in Los Angeles as a way of using leftovers. Who knew leftovers could be so glamorous?
Apple Bacon Coleslaw - Smoky bacon and the crunch of a sweet and tart apple add novel touches to our fresh homemade Apple Bacon Coleslaw. This coleslaw recipe teams well with picnic and grill favorites.
Crisp Cucumber Salad - Enjoy the tastes of summer year-round with this fresh-tasting crisp cucumber salad. It's got a touch of sweetness that really complements the tangy vinegar.
Greek Island Salad - Mr. Food got this recipe from a Greek Festival that he went to a few years back. He said everything about it was lively and tasty, from the music and the dancing to this Greek Island Salad and the other Greek specialties.
Picnic Potato Salad - Everyone has a recipe for potato salad. But Picnic Potato Salad is one that gives you potato salad and vegetable salad all in one.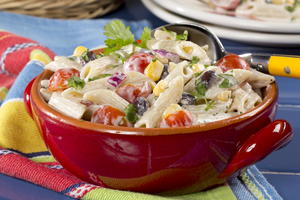 Southwest Macaroni Salad - Pasta salad and authentic Southwestern flavors are popular everywhere, so you've got a sure winner here.
Pasta Fruit Salad - Need a recipe to take to the next potluck but don't want to bring the same old "same-old"? The feedback we've gotten is that this fruit and pasta salad is always a hit.
Seafood Salad - This is the perfect easy salad to serve for a summer lunch or dinner. Your family will think you fussed, especially if you serve it over a bed of green lettuce like romaine, or even iceberg!
Beefy Summer Salad - Why not turn leftover roast beef into a refreshing main dish salad? It's great in any season!
Smoked Turkey Potato Salad - Smoked Turkey Potato Salad is an exciting twist on a popular picnic and potluck supper dish. Whatever the occasion, you'll be a hit!
Tuna Twist - Pasta salads are part of almost every family get-together, and this tuna twist is no exception. Serve it chilled as a main course or a picnic bring-along.
Picnic Sandwiches
No picnic menu is complete without sandwiches! Picnic sandwiches are a cinch to make at home and travel easily, making them the perfect pack-along meal. Whether you prefer fancy wraps or classic sandwiches, you'll love our tasty picnic sandwich recipes!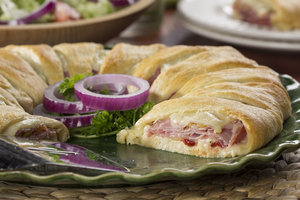 Layered Italian Crescent Ring - It's as easy as layering some of your favorite Italian sub ingredients and wrapping them up in a cozy crescent dough blanket. It's one of our favorite picnic food recipes.
BLT Burritos - Bacon, lettuce, and tomato? It's an all-time favorite lunch combo. Now you can mix it up, roll it up, and enjoy it in one easy-to-eat package as a BLT Burrito.
Layered Sandwiches - No more hearing, "I want this!" or, "No, I want that!" Serve everybody a slice of this combo sandwich and they'll have a chance to sample everything!
Croissant Club Sandwiches - There is something fun about taking an old standby recipe and fancying it up a bit. Here we took our favorite club sandwich and teamed it with a French croissant.
Pulled Pork Sandwiches - In the South, there's a barbecue joint on every corner and each one boasts the best pulled pork sandwiches. The Southern cooks in our test kitchen helped create a version that comes pretty close to that authentic flavor, but with a shortcut or two.
Roasted Vegetable Sandwich - Every trendy lunch menu features a roasted veggie sandwich. What sets this one apart, besides how economical it is, is the fact that you can make it, wrap it in foil and keep it in the fridge till you're ready to heat and eat it.
Chicken Salad Pitas - Ever forget to buy bread or fillings for the family's lunch boxes? Never again! Just freeze these great-tasting treats and have them ready whenever they're needed.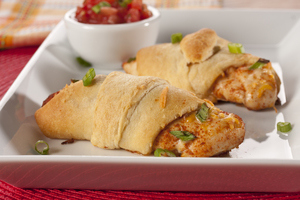 Taco Chicken Wraps - These easy to make Taco Chicken Wraps are the perfect hand-held solution to picnic food main dishes.
Chicken and Slaw Wraps - Rotisserie chicken is so handy! Use it to make these Chicken and Slaw Wraps, and you'll have a hearty chicken sandwich ready for lunch, dinner or a nutritious snack in minutes.
California Chicken Salad Wrap - Dried plums are an All-American super-fruit that grows abundantly in California and, no matter where we live, these bite-sized nuggets offer loads of healthy benefits as part of a nutritious diet.
Ham and Pepper Stack - For an easy crowd-pleasing recipe that really stacks up, try our Ham and Pepper Stack. An Italian bread loaf loaded with layers of a honey-mustard and cream cheese spread, deli ham, Swiss cheese and more, it'll score you big entertaining points!
Shrimp Salad Wraps - This mouthwatering sandwich wrap stuffed with a fresh-tasting shrimp salad filling will make mealtime exciting. Salad shrimp may be tiny in size, but made this way, the lunch or dinner favorite is big on flavor!
Apple Cinnamon Finger Sandwiches - Platter up our Apple Cinnamon Finger Sandwiches with two or three other kinds of finger sandwiches, and let the party begin! Don't you just love parties?!
Picnic Drinks
You can't plan a picnic menu without packing beverages! Our cool picnic drinks are just the thing to enjoy when you're dining outside. From homemade lemonade to a refreshing summer punch, these picnic drinks really hit the spot.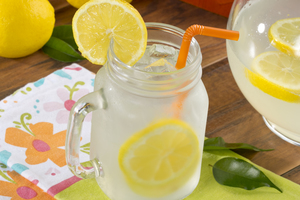 Country Lemonade - "When life gives you lemons, make lemonade." In my opinion, even if life doesn't give us lemons, we should go out and buy a dozen or so, and start making some fresh-squeezed goodness today.
Iced Green Tea - We're "going green" with one of the most popular iced teas around – iced green tea! With green tea being touted for offering so many health benefits, this refreshing iced tea is the perfect way to quench everyone's thirst.
Lemonade Cranberry Cooler - Quench your thirst with flavor-packed floating cranberry ice cubes that turn ordinary lemonade into a Lemonade Cranberry Cooler, which is one sensational summertime sipper.
Tropical Summer Punch - Tropical Summer Punch is festive and easy to throw together for all kinds of summer fun, or for any time you want it to feel like summer. Great for last-minute guests, graduations, backyard parties...whatever.
Peach Melba Cooler - This refreshing Peach Melba Cooler will quench even the biggest summer thirst. The trio of creamy raspberry sherbet, frozen peaches and sparkling club soda team up for super sipping.
Celebration Punch - Your party guests will be pleased as punch when they get a sip of our refreshing Celebration Punch. Stir this one together easily with your favorite bottle of bubbly and some convenient ingredients from the market freezer case.
Picnic Desserts
The perfect ending to a picnic meal is a delicious homemade dessert! Whether you include pie or cookies on your picnic menu, these easy picnic dessert recipes can be prepared hassle-free the day before your picnic.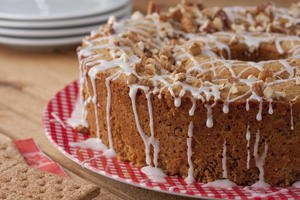 Nutty Graham Picnic Cake - Steal the hearts of loved ones with this from scratch Nutty Graham Picnic Cake. It's perfect for your table or picnic basket and it's got all the right flavors that'll make 'em go "yum!"
Sweet and Salty Cookies - For some reason we crave the taste of snacks that are at the same time both sweet and salty, so here's a combination of sugar cookies and pretzels that your taste buds will fall in love with.
Lime Margarita Bars - Traditional margaritas are made in glasses with salted rims. These cooling bars are made with salted pretzels, so you get that salty taste in every bite. (And you don't sip these, so you don't need straws!
Watermelon Pie - Take along one or two of these to your next family backyard get-together for a cool and refreshing change-of-pace pie.
Pecan Pie Brownies - Is there anybody who doesn't like pecan pie? Is there anybody who doesn't like brownies? Put 'em together and WOWEE!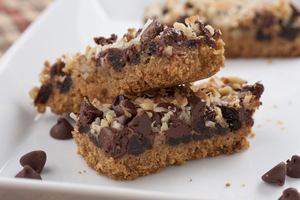 Five Layer Bars - These bars have five fantastic layers of fabulous flavor. See if you can taste each one!
Easy Peach Cake - Did I tell you this one's a cinch? No need to tell the gang, though - let 'em think you're amazing!
Chewy S'mores Squares - These ooey, gooey s'mores squares are picnic perfect. Easy to eat, totally portable, and outdoor appropriate. We love this picnic recipe!
Cherry Berry Pie - Although the legend about George Washington chopping down a cherry tree may be more fiction than fact, historians do confirm that he did like cherries. Give our easy recipe for Cherry Berry Pie a try in honor of the father of our country.
New York Cheesecake Squares - These cheesecake squares could be stars on Broadway...and on your kitchen table, too.
Check out our entire collection of FREE eCookbooks and sign up for our newsletter!
Report Inappropriate Comment
Are you sure you would like to report this comment? It will be flagged for our moderators to take action.
Thank you for taking the time to improve the content on our site.
.08 20 15.
LATEST TV RECIPE & VIDEO
One bite of our Sour Cream Crowned Fish Fillets and you'll be hooked! Why? Because the creamy, cheesy, and seasoned sauce tastes so perfect with the flaky white fish and crunchy bread crumbs.