Recipes for Lent: 30 Meatless Meals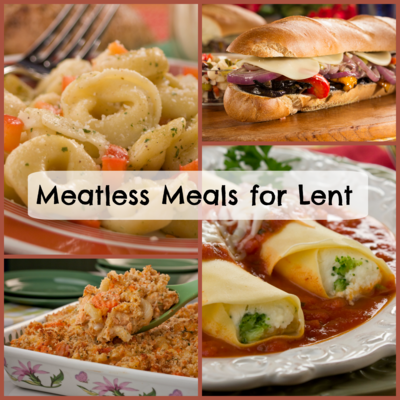 It's hard to figure out ways to diversify your meals when you can't have meat for Lent. Suddenly, all of your favorite dishes get put on the back burner as you try to figure out how you can add some variety to dinnertime. Our latest recipe collection, Meatless Meals for Lent: Top 14 Recipes, gives you a few ideas, so you're not scrambling to figure out recipes each week. From dinner ideas to Lenten lunch recipes and more, we know you're gonna love the quick easy meatless meals we've cooked up. They're the perfect recipes for when you're holding out for that huge Easter dinner spread!
Table of Contents
Lent Dinner Ideas
Finding dinner recipes that the whole family can agree on can be difficult. Toss in the fact that you are in search of meatless meal ideas during Lent and the task grows harder and harder. Lucky for you, we have scoured the Mr. Food recipe collection for some of our best Lenten dinner ideas. Look out below for some tasty and meat-free ideas. Looking for Friday fish recipes? Keep scrolling and check out the section below.
Fish Recipes for Lent
If you're on the hunt for a fantastic fish dinner recipe idea for Lent, look no further than the tasty seafood recipes below. All of the fish dinner ideas below are perfect for Lent. From tasty catfish concoctions to simple salmon, these Lent Friday meals are ideal for families of all sizes.
Lent Lunch Ideas
Finding lightened up and meatless lunch ideas during Lent can be difficult. If you're go-to is a simple lunch meat sandwich, it is hard to think of simple and creative alternatives for your mid-day meal. These Lenten lunch recipes and ideas are tasty, simple, and easy to make-ahead of time. Consider meal prepping the week of Lent by making salads or sandwich toppings you can re-heat when your lunchtime hunger hits.
If you love these recipes, then you'll love this FREE eCookbook!